The Retaliators (2022) is a film that I've been wanting to see ever since it appeared on my radar after PopHorror's Screamfest Horror Film Festival review. You may read another writer's review here. The film sounds right up my alley. A horror-thriller about revenge, which who doesn't love a good revenge story? If I am being honest though, what really sold me was the soundtrack. What did I think of this film? Read on for my spoiler-free review.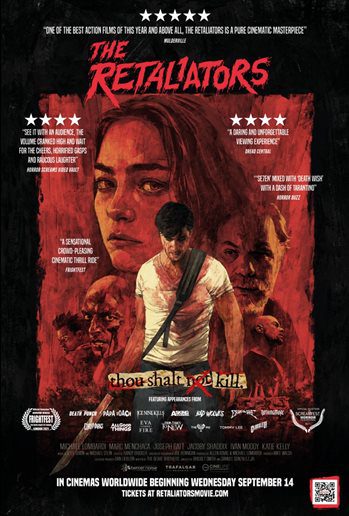 The Retaliators Synopsis:
An upstanding pastor uncovers a dark and twisted underworld as he searches for answers surrounding his daughter's brutal murder. A high-octane original soundtrack and cameos from some of the biggest names in rock music set the tone as this horror-thriller reveals a game of revenge played using a new set of rules.

Michael Lombardi (Rescue Me), Marc Menchaca (Ozark), and Joseph Gatt (Game of Thrones) headline the cast alongside Jacoby Shaddix, front man of Papa Roach, making his acting debut. The Retaliators features cameos and music by Mötley Crüe's Tommy Lee, Five Finger Death Punch's Ivan Moody, Zoltan Bathory, and Chris Kael, Papa Roach, Jaya of The Hu, Spencer Charnas of Ice Nine Kills, Eva Under Fire's Amanda Lyberg, Matt Brandyberry, Danny Case, Lance Dowdle, and Matt Madiro of From Ashes to New, Cory Marks, and Dan Murphy and Miles Franco of All Good Things, anchored by an original score from Emmy-winning composers Kyle Dixon and Michael Stein (Stranger Things).
Trailer:
My Thoughts:
This film pulled me in right away. The opening scene may seem predictable, but I assure you it's not completely what you think. The Retaliators will seem a bit confusing though, but that is the point. It is setting up for the twist later. It definitely captures your attention, I put my phone away, which I almost never do. The performances are strong and the actors breathe life to their characters. Michael Lombardi is terrific brings so much emotion to his role. It is difficult to balance good and evil and he nails this role. Marc Menchaca is fantastic as well. I am not going to spoil it, but his character definitely took me by surprise. Joseph Gatt is so creepy and good in this film.
The Retaliators also has a lot of tension, unfolds at a good pace, and blends the perfect amount of tension. It delivers what you want to see in a revenge film – action and bloody revenge to all who deserve it. The musician cameos and the music is a vital part of the film and make it a fun watch.
My Final Thoughts:
The Retaliators is worth checking out. It is a great addition to the revenge film genre. It is now available on VOD worldwide. The original soundtrack is available for pre-order as well.
Music Video:
The original soundtrack for the film, featuring songs from artists appearing in the film, will be available from Better Noise Music on September 16. The soundtrack is led by the Mötley Crüe single "The Retaliators" (written by the band's cofounder and bassist Nikki Sixx, featuring Danny Worsnop from Asking Alexandria, Spencer Charnas from Ice Nine Kills, and Matt Brandyberry from From Ashes to New) releasing August 5. Four singles from the film have reached #1 on Rock Radio since 2020, including: Papa Roach's "The Ending," Five Finger Death Punch's "Darkness Settles In," All Good Things' "For the Glory featuring Hollywood Undead," and Bad Wolves' "Lifeline."