I love movies set at Halloween. What I love even more are movies set at Halloween in a small town. That small town setting gives it a little something extra, don't you think? That's why I loved the new film from Jeff Wadlow called The Curse of Bridge Hollow.
Per IMDb, "A teenage girl, who accidentally releases an ancient and mischievous spirit on Halloween, which causes decorations to come alive and wreak havoc, must team up with the last person she'd want to in order to save their town – her father."
Say no more! The Curse of Bridge Hollow not only takes place on Halloween in a small town, but it also has an amazing cast: Marlon Wayans, Kelly Rowland, Priah Ferguson, Nia Vardalos, Rob Riggle, Lauren Lapkus, Dave Sheridan… The list goes on. The film had me googling if the Stingy Jack legend was real, and it is! It's rumored that the jack-o'-lantern is named after Stingy Jack, which makes this film even more enjoyable. To celebrate the release of the film on Netflix, I chatted with star Priah Ferguson about why she wanted to be a part of the project, what it was like on set, horror movies, and more!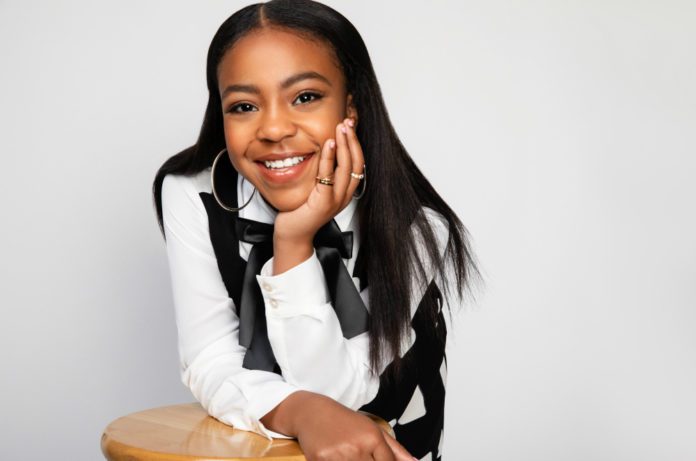 PopHorror: I loved The Curse of Bridge Hollow. It was so much fun. I've actually watched it twice already because it really got me into the Halloween spirit. I'm super excited to speak with you.
Priah Ferguson: Thank you!
PopHorror: What intrigued you about the project and made you want to be a part of it?
Priah Ferguson: I would say definitely the dad and daughter relationship. That's what intrigued me. And how Sydney was a teenager because I kind of got to play myself in a way. That's what intrigued me into doing the project. It was different and I thought it would be lighthearted and cool and get people into the Halloween spirit.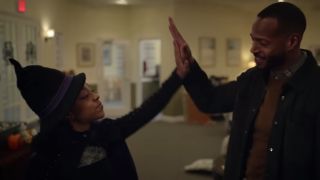 PopHorror: Yes, it definitely does. What was your favorite part of filming?
Priah Ferguson: Oohh. The stunts. I enjoyed a lot of the stunts. I don't always enjoy doing the stunts, but that was my favorite part of filming because who doesn't enjoy doing stunts sometimes? Especially kicking the clown's head off! I just thought it was really fun. I let loose some internal anger there.
PopHorror: It's nice to be able to get out that internal anger by doing something fun, like beating up a clown or an army of skeletons, or giant spiders.
Priah Ferguson: Yeah!
PopHorror: This film is just full of amazing comedians: Marlon Wayans, Rob Riggle, John Michael Higgins, and Lauren Lapkus, who is always hilarious. What was it like working with such great comedians? How much fun was it on set?
Priah Ferguson: It was a lot of fun! I laughed a lot on set, especially with the paranormal kids. I laughed a lot with them. Marlon, of course, I laughed a lot with him. So, we definitely had times where we were laughing so much it was hard for us to pull it back together, but eventually we did pull it back together.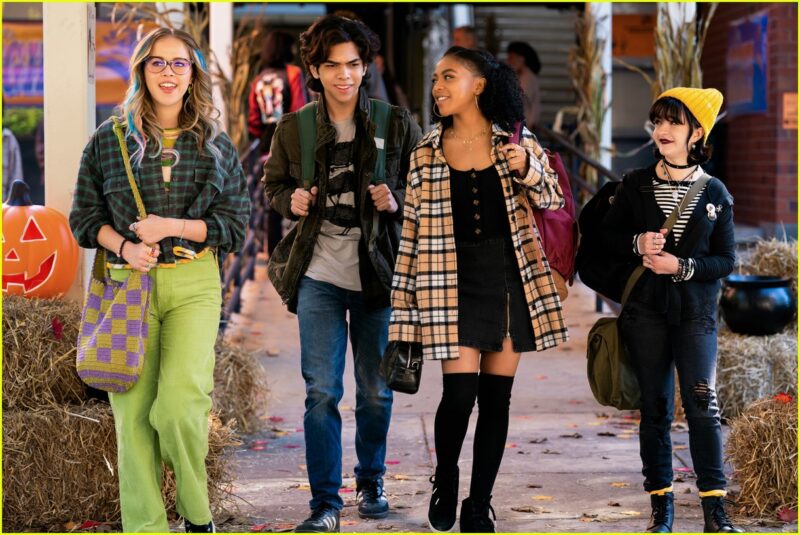 PopHorror: Looking at your resume, you're pretty horror-oriented. Stranger Things is horror adjacent, and this one is a more family friendly horror. Would you say that you were a horror fan before?
Priah Ferguson: Before getting into it, I wasn't really a horror fan. I did enjoy Halloween and dressing up and going to the haunted houses and all of that good stuff. But I wasn't really into watching horror movies. I think I ended up getting into it when I was working on those sets, and I kind of knew how it wasn't real, and how they do those creepy things in some of those movies and shows. That's when I started getting into it.
PopHorror: Do you think it gave you a renewed appreciation for it?
Priah Ferguson: Yeah, yeah, I think so.
PopHorror: You've been working awhile now. I was looking through your IMDb and it's really impressive. What made you want to get into acting?
Priah Ferguson: When I was younger, I always had an outgoing personality. I would go anywhere and just talk to anybody. So people were always like, "Well, you've got to get her into acting!" My mom was a bit skeptical at first. Both of my parents were. But then I told them that this was something I really wanted to do because I was super curious on how people got into the TV, and I thought it was really fun and cool. But then my mom told me they filmed it before, and it was acting. I was like, "That's what I want to do!" I took a few classes and from there, I did a little bit of theater at one of the local theaters, and I realized that this was something that I really wanted to do.
PopHorror: I'm really excited to see what you have coming up for us because I've really loved everything that I've seen you in. What is up next for you?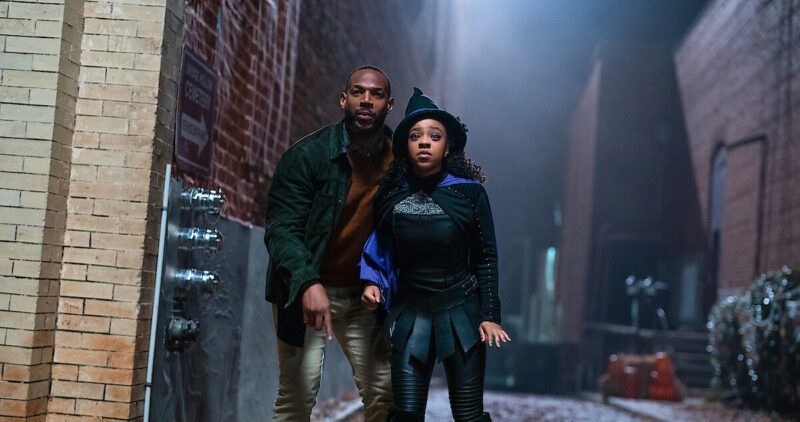 Priah Ferguson: Thank you! Definitely a few voice overs. I'm in My Dad the Bounty Hunter. That's going to be on Netflix and I play the role of Lisa, and that's a main role. My Dad the Bounty Hunter is basically an intergalactic show of these bounty hunters, and these kids find out that their dad is a bounty hunter, and they kind of find themselves doing something that they really have no business doing. They end up going into that intergalactic world with him. I'm also on Hamster and Gretel, which is on Disney. I play a character called Bailey, and Bailey is super peppy, she's super cute, super fun, and she's Gretel's best friend. She loves to talk about how much she loves Gretel, and Gretel means a lot to her. It's a really cute character. I'm also working on some stuff behind the scenes too.
PopHorror: I've been super impressed with what you've done so far and you have a great future ahead of you, so I'm really excited with what is coming up. Just one last question for you today. What is your favorite scary movie?
Priah Ferguson: Oohh. Child's Play. Child's Play is my favorite scary movie. I love Chucky.
Thank you so much, Priah, for taking the time to speak with us. You can catch The Curse of Bridge Hollow on Netflix now!