I first saw Jeremy Palko as Andy on The Walking Dead. The moment when he lifted the fake Gregory's head to offer it to the Saviors, he became a part of TWD history. The actor has also appeared in other series, including Ruthless, The Vampire Diaries, Sleepy Hollow, Burn Notice, The Middle, and Bloodline, and has had roles in Pitch Perfect 3 (2017), The Final Destination (2009), and Alvin and the Chipmunks: Chipwrecked (2011). In 2016, he won a Best Shorts Compilation award, along with the rest of the cast, for the 2016 short, Sanctuary.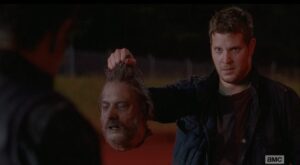 During Covid, Jeremy had to take a break from acting and picked up a paintbrush, creating beautifully surreal artwork. The final designs are quiet and melancholy yet uplifting. I'm a bit obsessed with them myself. You can see more of Jeremy's artwork HERE.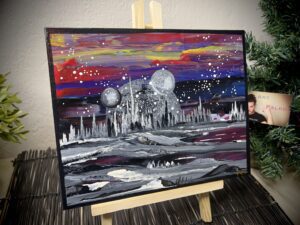 When I met with Jeremy at Rhode Island Comic Con 2022, I found him to be friendly, open, and quite humble. I knew I had to get inside his mind, especially after he accepted by zombie plant gift.
PopHorror: First off, how did you get into the filmmaking industry?
Jeremy Palko: Kind of a strange road really. I took a few drama classes in college and really became interested in theater. After a Disney internship, I left Seattle and boarded the Disney cruise line, where I became an entertainment host and basically hosted game shows and partied for two years straight. It was really an amazing experience… the places I went and the people I met. But most importantly, I became very comfortable being on stage. This led me to my first agent in Florida, and I haven't looked back since. My first movie came in 2008, Never Back Down. And I've continued to audition to this day.
PopHorror: Were you a horror fan before your role on TWD? Has that changed since the role ended?
Jeremy Palko: Michael Jackson's "Thriller" scared the hell out of me when I was about five years old. I've never been a fan of horror. That changed when I started working for Universal Studios Orlando. I worked as an actor in a show called The Bill and Ted Show at Halloween Horror Nights. During the run, our entire cast and crew would go through the haunted houses they had. I hated every minute of it! But I was a team player and went with everybody. Over the 10 years I worked at Universal Studios, I slowly became a fan of horror, and I've come to enjoy it. Nothing like a good scary movie, honestly. Now I'm pretty used to anything with blood and guts. Not only from being on the show, but from being able to travel and meet so many people who are fans of the genre. I guess I got roped in.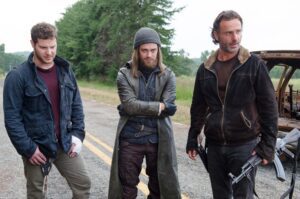 PopHorror:  How's your zombie plant?
Jeremy Palko: Zombie plant? [laughs]
PopHorror: That's all I get? Fine! [laughs] Do you prefer working on episodic series or movie projects?
Jeremy Palko: I think I can speak for most actors out there… either one would be wonderful! Life of an actor is never easy. Auditions and good projects come few and far between. You're always wanting to just get that next job.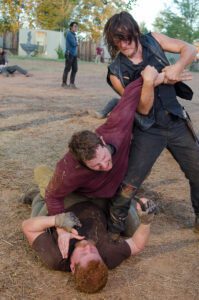 PopHorror: When you're not involved with filmmaking, what else do you do to stay in a creative mindset?
Jeremy Palko: That is such a wonderful question and a perfect time for me to answer. During quarantine, I picked up a paintbrush for the first time. I was completely bored one day and decided to paint something. I posted it on some social media and was pretty nervous. Out of nowhere, somebody offered to purchase my painting. I guess being on a hit TV show was a great way to establish some sort of following on social media, which I am extremely grateful for. Since that day painting, I haven't stopped in two years. It has become my hobby, my obsession, and an absolute love.  I have a website coming www.ArtByPalko.com. My entire house is covered in paintings.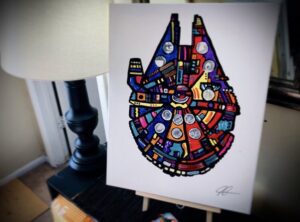 PopHorror: What inspires you to paint? Do you have a muse?
 Jeremy Palko: The oddest thing I have found with painting is that I never really plan anything else. When I feel like painting, I reach into two bins. I have one light colored and one dark colored. I grab a few paints and go from there. I pretty much then walk around my house for hours looking at the hundreds of half done paintings lying around and decide which one needs what. As far as getting inspired, anything and everything! Music, movies, people, conversations, nature walks, my dog, and everything in between.
PopHorror: Do you listen to music when you paint?
 Jeremy Palko: Absolutely! And according to Spotify, my main go to is Hans Zimmer, which I can't argue with. Anytime I'm painting, Hans Zimmer—or any other movie score really—gets me thinking deeply and the creative juices flowing.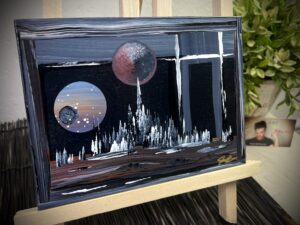 PopHorror: Tell us about your journey to get to where you are today.
Jeremy Palko: Well, I was born in Lagrange, Georgia and moved to Puyallup, Washington when I was five years old. I then spent the next 20 years in the Seattle area where I graduated University of Washington in 2005. After that, I worked with Disney for the next five years, both on land and off aboard the Disney Cruise Line. After that, I began professionally acting in Orlando, Florida, on stage and in film and television. I have continued to pursue acting for the past 15 years as a member of the Screen Actors Guild. I now call Atlanta, Georgia, my home and paint pretty much every single day. And I have an awesome dog named Jonesy.
PopHorror: What's next for you?
Jeremy Palko: Like most actors, I am just waiting for the next audition and that next gig. But thankfully, with art being a huge part of my life now, I have a few shows in the works. And because I only paint original paintings, every day feels like an adventure when painting. The response from people has been overwhelming and humbling. I have high hopes for the future in both acting and artwork.
PopHorror: Thanks so much for chatting with me, Jeremy!
 Jeremy Palko: Thanks, Tracy! This was fun!
Check out more of Jeremy's artwork below and HERE.