At last night's (Monday, October 11) Beyond Fest's closing night screening of Fox Searchlight's ANTLERS at the Hollywood Legion Theater, Guillermo del Toro made a Special Surprise appearance! Check out some of the awesome stills from the night!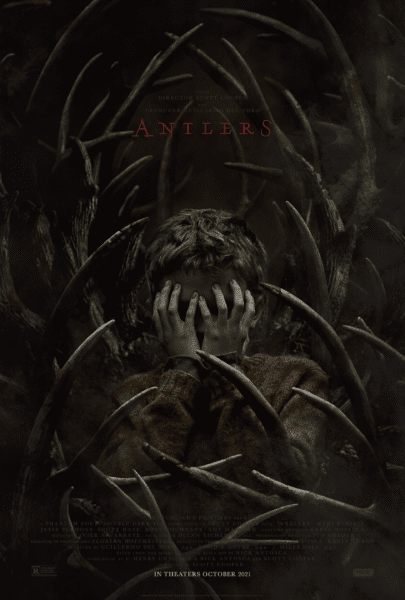 ANTLERS comes from the visionary world of acclaimed director Scott Cooper (Crazy Heart; Hostiles), horror maestro Guillermo del Toro (Pan's Labyrinth; Mimic; The Devil's Backbone), David S. Goyer (Searchlight's The Night House; Apple TV+ Foundation), and J. Miles Dale (Searchlight's upcoming Nightmare Alley). ANTLERS is written by C. Henry Chaisson (Servant) & Nick Antosca (The Act) and Scott Cooper (Black Mass), based upon the short story The Quiet Boy by Nick Antosca. The film features an accomplished crew of craftspeople including Cinematographer Florian Hoffmeister (The Deep Blue Sea), Production Designer Tim Grimes (The Wrestler), Editor Dylan Tichenor (Brokeback Mountain), and Composer Javier Navarrete (Pan's Labyrinth). In addition to Russell (Universal's upcoming Elizabeth Banks thriller Cocaine Bear) and Plemons (Netflix's Jane Campion drama The Power of the Dog), ANTLERS features Academy Award nominee Graham Greene (Dances with Wolves), Scott Haze (Jurassic World: Dominion), Rory Cochrane (Encounter), and Academy Award nominee Amy Madigan (Twice in a Lifetime). Smoke Signals director Chris Eyre served as a consultant on the film.
Synopsis for ANTLERS
In an isolated Oregon town, a middle-school teacher (Keri Russell) and her sheriff brother (Jesse Plemons) become embroiled with her enigmatic student (Jeremy T. Thomas) whose dark secrets lead to terrifying encounters with a legendary ancestral creature who came before them.