Although I haven't read many graphic novels, I can already tell Richard T. Wilson's (read my interview with him – HERE) Halloween Girl series is going to be one of my favorites. Halloween Girl – Vol 1: Promises to Keep is a fantastic book about courage, friendship, and spooky adventures! You can't go wrong with that!
Official Book Synopsis
Death is a lot of damned work', thinks 18-year-old ghost, Charlotte Williams, as she braves the unsettled world of the In-Between. It's inside the In-Between that Charlotte finds the clues she desperately needs that will help turn the tide in her battle against diabolic, secret society, The Hollow (who took her life and just happen to be trying to end the world!).

Returning to the 'Bone Yard' (aka Crystal Springs Cemetery), Charlotte meets up with her supernatural gal pal Poe, an acerbic goth who works with her to decipher the latest clues. Following a series of confrontations that continue to escalate the danger, Charlotte's world is further rocked when The Hollow kidnap her young son, Luke. To get him back, Charlotte and Poe are forced to separate, individually confront their own dark pasts and maybe, just maybe, save the world.
Right from the get-go, I'm already in love with Charlotte's character. You can tell she's a bit of a rebel with some edge to her but also a kind soul who will help those in need. As we see in Promises to Keep, sometimes being kind has its setbacks and Charlotte finds herself in a sticky situation.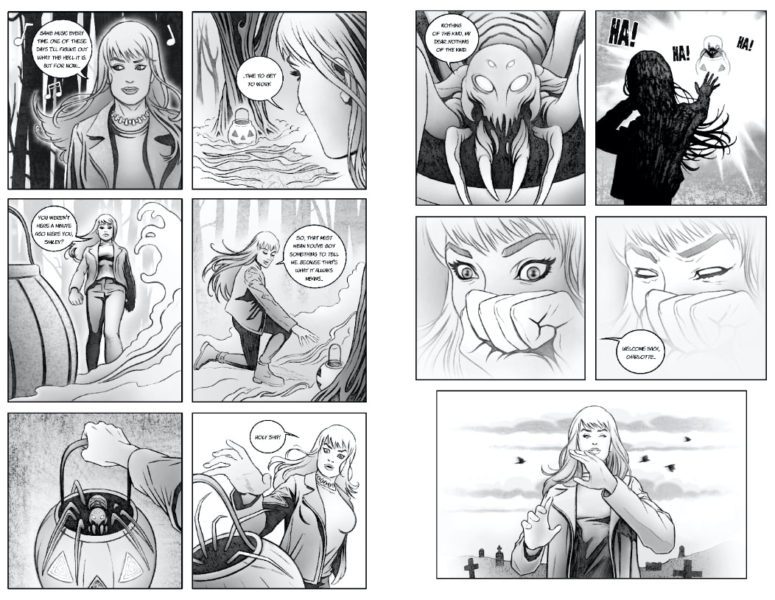 The artwork throughout the graphic novel is beautifully detailed and I love the black and white illustrations. Stephen Mullan did a fantastic job at bringing this story to life with his artwork.
I can't wait to read what happens next to Charlotte and her friends in the next volume in the Halloween Girl series. With Halloween just around the corner, this is the perfect short and spooky story to enjoy with your family. Grab it – HERE.