Welcome to this Fright Night Theatre…
We are all feeling cozy and invited as Peter Vincent (Roddy McDowell: Battle for the Planet of the Apes 1973) bellows from the television screen in teenage Charley Brewster's (William Ragsdale: Herman's Head TV series) bedroom. Vincent is introducing the horror-themed television show he hosts. Amy (Amanda Bearse: Married with Children TV series), Charley' girlfriend, is the only person who can get Charley's attention while the program about vampire hunting is on. Although in the movie it's believed that vampires are fictional, Charley is transfixed and disappears nightly into a fantasy world of his own every time the show airs. Little does he know that he will be playing out the role of vampire hunter very soon in real life, alongside the surprisingly cowardly Peter Vincent, when he realizes that his new neighbor, Jerry Dandridge (Chris Sarandon: The Princess Bride 1987), is more than he appears.
On August 2, 1985, Fright Night was released by Columbia Pictures, bringing in a cool $24.9 million to the box office, making it a surprise hit among critics and a fast cult-classic. To show just how popular the movie still is, over the years there's been a sequel, Fright Night Part 2 (1988), a remake (2011), a sequel to the remake Fright Night 2: New Blood (2013), a documentary called You're So Cool, Brewster! The Story of Fright Night (2016), an eponymous comic book series that lasted from October 1988-August 1990, as well as an arcade style video game. It's not a well known fact, but even Bollywood released a version of the film that was dubbed in Hindi. Look it up!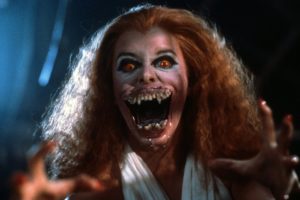 In one of Fright Night's earlier scenes, Charlie witnesses his new neighbor, Jerry Dandridge, making a meal out of a missing woman. The Fright Night Theatre-obsessed teen then has the daunting task of trying to convince those around him that Dandridge is, in fact, a vampire. Sadly, he loses his girlfriend and his best friend, the hilarious and sometimes touching Evil Ed (Stephen Geoffreys: 976-EVIL 1988), to Dandridge in the process. Don't worry… we still see a lot of Evil Ed as a naughty, obnoxious vampire throughout the movie.
In the fight of their lives, Charlie and Peter Vincent must maintain order in suburbia while fighting the ever so powerful Dandridge and his (surprise) zombie personal assistant and protector, Billy Cole (Jonathan Stark). Charlie must find a way to save his beloved Amy and once and for all destroy the vampire that's been terrorizing the neighborhood.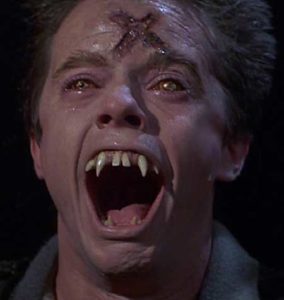 What makes Fright Night different from any other vampire movie? This film is not only a blast to watch, but it's got a little eye candy for the ladies (hello, sexy Jerry Dandridge), tearjerkers (who didn't tear up a little when poor Evil Ed was turned after explaining how much he wanted to fit in?), a bit of love story (both between Charlie and Amy and Amy and Jerry), humor (Evil Ed with a Raggedy Ann wig on his head), scary moments (Evil Ed with a Raggedy Ann wig on his head), and lots of action in between! What's not to love about this 1985 cult classic?
With a budget of $9 million, first time director/writer Tom Holland had an hysterical time writing the script and filming Fright Night. Although it wasn't easy for him in the beginning, and he had to overcome many self-doubts about the original concept of a boy being convinced his next door neighbor was a vampire, ultimately it proved to be quite the successful direction for him. We, as horror fans, are sure thankful he decided to stick with it! Holland has stated that the story did not ultimately come together until he conceived of a Peter Cushing/Vincent Price-type character who hosted a horror-based television show, as was popular in the 1980s. Originally, Holland's dream was to have Price play the role. Wouldn't that have been something? Sadly, that did not come to fruition, but he found a very worthy replacement in Roddy McDowell. I think it's a wonderful fit myself.
Chris Sarandon is every warm-blooded woman's fantasy as vampire. He is calm and commanding, charming and handsome. After reading the script, Sarandon, with reservations of portraying yet another villain, thankfully couldn't turn the role down.
Casting Married With Children's uptight neighbor Amanda Bearse as Amy seems somewhat odd, doesn't it? According to Holland, she was the perfect girl next door… and yes, she really is.
William Geoffreys, who portrays Evil Ed, was quite disappointed that he wasn't chosen to audition for the role of Charley Brewster, but I personally can't imagine him playing anyone other than quirky, hyper-active and easily persuaded Evil Ed.
Thank goodness William Ragsdale beat out a young Charlie Sheen for the role of Charley Brewster. His humble and earnest portrayal is convincing enough to have us viewers fighting in his corner from the very start. I fear that if a more well-known actor such as Sheen been cast, his fame would have outshone the brilliance of the script and plot.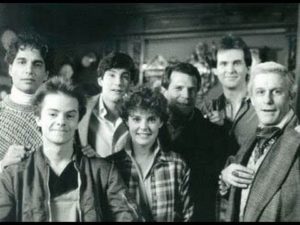 We can see that Fright Night had a strong impact when it was released in 1985 and still does 32 years later. It's my hope that we see more of these kinds of fun-loving, humorous yet terrifying movies being made in the future…. films that teenagers in suburbia can relate to and films that will live on in the hearts of those who viewed them as children, such as myself. On this cult classic's 32nd anniversary, we learn that sometimes under the right circumstances, people and patience can come together and horror movie magic can be made. Until next time, we will let the vampires rest for a little while… right, Charley?