I enjoy folklore horror films.  It's not something we get a lot of and I like the lore part of them. They are usually set in quaint, small towns, which is why we find what happens there so shocking.  When I first found out about Well Go USA's latest film release Unwelcome, I knew it was a film I wanted to check out. So when the opportunity arose to see the film, I took it.
What did I think of this film? Read on to find out.
Unwelcome (2023) Synopsis:
Married couple Maya and Jamie escape their urban nightmare to the tranquility of rural Ireland only to discover malevolent and murderous goblins lurking in the gnarled, ancient wood at the foot of their new garden.
My Thoughts
This film was a solid watch for me. The film starts out with a couple: Maya (Hannah John-Kamen) and Jamie (Douglas Booth), overjoyed with the discovery that Maya is pregnant. The happiness is cut short by a violent home invasion perpetrated by three men in their city flat. Left traumatized, they soon leave the city and go out to the country. Jamie's aunt recently died and left them a house.
This is a quaint town in Northern Ireland. Upon arrival, there are all sorts of red flags and oddness, which Maya and Douglas, of course, don't take seriously. They meet an older woman who explains that Jamie's aunt believed in the lores and would leave a plate of meat for the "little people". The "little people" are known as far darrig, the "redcap" fairies. She sternly warns you don't mess with them and that you must feed them. Of course, they laugh off this warning.
From that point, the couple keeps ignoring red flags and warnings. The house was dilapidated in some areas, so they have a lot of improvements to make. They have trouble finding workers to do this, and everyone is booked out, except for the Whelans, a family of degenerates led by a loud obnoxious father played by Colm Meaney. From this point on, it is a series of events leading up to finally meeting the redcap fairies, the demise of the Whelans, and a surprise ending.
A strong point of this film is the characters. Definitely well-acted and they are believable and they continue to grow throughout the film. The pacing of the story is fair; it didn't feel rushed, and it didn't drag too much either. Another strong point is the special effects. The creatures are just so much fun. All in all, I enjoyed the film.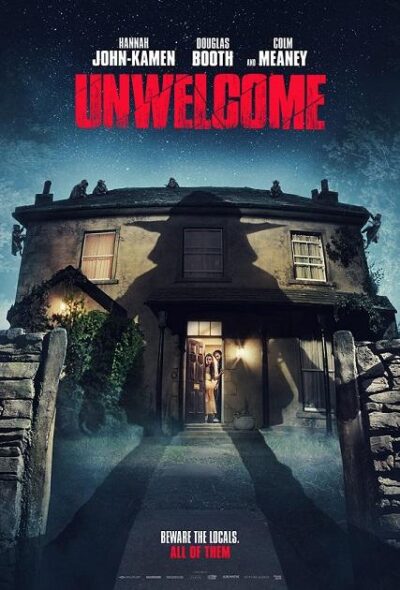 Final Thought
Unwelcome is, as I said, a solid watch. It is a nice addition to folklore horror, with strong characters that are well-acted. The performances and creatures make this a fun folklore horror watch. Unwelcome is currently playing in select theaters and is available on VOD on most platforms.