"Anything done out of love is beyond good and evil."
William Malone is truly a Master of Horror and has done some amazing stories with hypnotic visuals and soundtracks, like House on Haunted Hill (1999), FearDotCom (2002), Creature (1985) and episodes of Freddy's Nightmares, as well as he memorable Parasomnia – one of my favourites! In 2006, William Malone delivered yet another tale of darkness and terror with his Masters of Horror episode The Fair Haired Child by combining great scares, mesmerizing atmospheric moods and wonderful performances. Read on to find out why you need to add this film to your horror collection. It's an original tale of family values and shows the lengths one would go to for love.
The Fair Haired Child was directed by William Malone (Parasomnia 2008), created by Mick Garris (Masters of Horror 2005-2007) and written by Matt Greenberg (Seventh Son 2014). It stars Lori Petty (Tank Girl 1995), William Samples (The BFG 2016) and Lindsay Pulsipher (True Blood 2010-2011).
The story is based around a young girl – innocent and an outcast among her peers. This is something the majority of children face while growing up. The young girl in this tale goes through the battle of becoming an independent adult, all the while dealing with a negligent mother. She finds herself alone while riding through the forest on her way home from school one day and gets run over. She's drugged and kidnapped by a rather strange man who seems slightly deranged at first.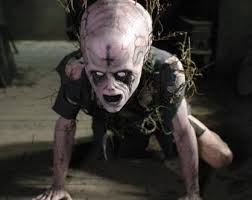 We soon discover that the man is a grieving parent who, along with his dictatorship wife – being more of the masculine figure in their marriage – hides a dark secret.
The Fair Haired Child is a macabre fairy-tale that offers a constantly unsettling atmosphere that keeps you at the edge of your seat. There are a few pleasantly surprising shock-effect moments and great visual effects! Judith and Anton, the desperate couple in despair, has made a devilish pact to bring their teenage son back from the dead after a terrible accident.
Their inability to cope with the loss of their son truly knows no bounds to what they are willing to do to cheat the hand of death himself.
The terms of agreement, however, demands a yearly sacrifice of innocent lives – twelve to be exact. This pact will ensure the return of their son and enable him to be reborn and become his old self again. Before the transformation can begin, their son undergoes the yearly ritual of devouring the innocent victims, he himself being a sinister creation, made from the very earth itself.
The monster in The Fair Haired Child is a nightmarish cocktail of their son's ashes and a human-sized poppet, skillfully directed by a true master and one to be feared! The creepy, rickety-flash movements are unnerving but a treat indeed.
With breathtaking scenes and top-notch cinematography, this little horror masterpiece is another one to add to your delightfully twisted collectables!
Be sure to watch The Fair Haired Child  if you haven't already – there's a surprising little twist in the end! And for those who are fans of William Malone, here's a look inside a Master of Horror.