A Quiet Place: Part II 4K Ultra HD Combo Pack, Blu-ray, and Digital releases boast exclusive special features that take viewers deeper into the world originated in the global smash hit, A Quiet Place. I had the chance to check out the Blu-ray and was surprised by how good this sequel was!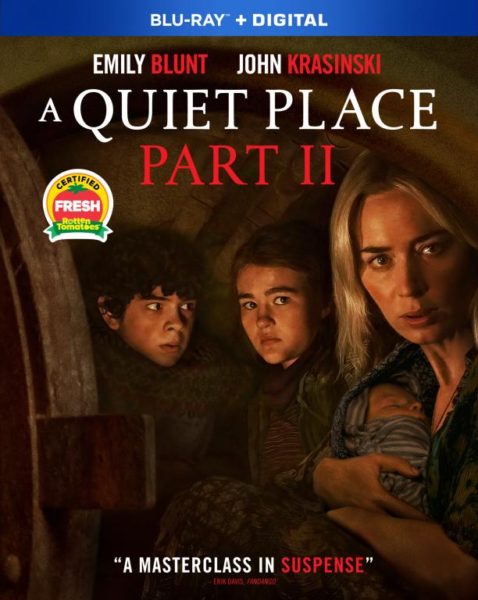 A Quiet Place: Part II Synopsis
Following the deadly events at home, the Abbott family (Emily Blunt, Millicent Simmonds, Noah Jupe) must now face the terrors of the outside world as they continue their fight for survival in silence. Forced to venture into the unknown, they quickly realize that the creatures that hunt by sound are not the only threats that lurk beyond the sand path in this "gripping, edge-of-your-seat thriller" (Scott Mantz, BFCA) written and directed by John Krasinski.
I remember watching A Quiet Place in the theater. As expected it was very quiet, no one was talking and you could feel the suspense in the atmosphere. Then all of a sudden my husband drops his keys and it felt like the loudest thing ever. Despite our little mishap, this is definitely the type of film that is best suited for a theatre. Unfortunately, I had to watch A Quiet Place: Part II in the safety of my own home, but the Blu-ray and special features made it all that much better. This was a superior sequel. The storyline was captivating, the acting was phenomenal, I loved the new characters, and the suspense was non-stop.
Just like in the first film, Millicent Simmonds, Emily Blunt, and Noah Jupe are all fantastic and deliver emotionally riveting performances. They each have quite the transformation and character development throughout the film. I especially loved the addition of Cillian Murphy's character. He was just what this film needed and his character arc is amazing. The same can be said for Djimon Hounsou's character. They each helped drive the story and make it equally as fantastic as the first.
Just like in the first film, the cinematography and special effects in A Quiet Place: Part II are amazing, possibly even more so than the original. There are some truly breathtaking scenes that make you stop and pause for a moment and forget the reality of what is going on. We also got a better look at the creatures and how they came about. The special features are a huge bonus and go into detail about the film and all that went into it.
A Quiet Place: Part II debuted on Digital July 13, 2021, and on 4K Ultra HD Combo Pack, Blu-ray, and DVD on July 27 from Paramount Home Entertainment. Plus, fans can experience the whole Abbott family saga with the 2-Movie Collection, available to buy exclusively on Digital or Blu-ray with bonus content on both films.