From Dark Sky Films comes a disturbing new horror entitled Bliss. Ever since this film hit the festival circuit, I was dying to see it. Would it live up to its hype? This off the walls horror story was directed and written by Joe Begos (The Mind's Eye). It has a brilliant cast starring Dora Madison (Dexter), Tru Collins (Vida), and Rhys Wakefield (The Purge).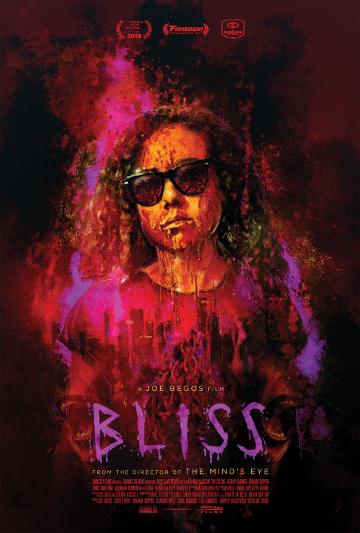 Synopsis for Bliss
Known for her dark and macabre artwork, painter Dezzy Donahue (Dora Madison) is in a professional rut. Unable to finish her newest commissioned work, Dezzy looks to reignite her creative juices by letting loose-as in, taking every drug insight and tearing through raucous house parties and heavy metal bars.

After a few nights spent with her debauchery-loving friends Courtney (Tru Collins) and Ronnie (Rhys Wakefield), though, Dezzy notices changes within herself. On the positive side, she's finally painting again, but she's also developing a strange desire for blood. As someone who has never been able to control her vices in the first place, Dezzy is quickly and violently consumed by this bloodlust.
Bliss is an unnerving and riveting cinematic experience. From the moment it began, my anxiety was on fire with this drug-crazed madness. It completely fucks with your head and makes you wonder if any of it is real or not. Don't take drugs, kids. The atmosphere is a complete chaos and almost makes you jittery with all the different tones and lighting. At the same time, it's also beautiful, warm, and inviting.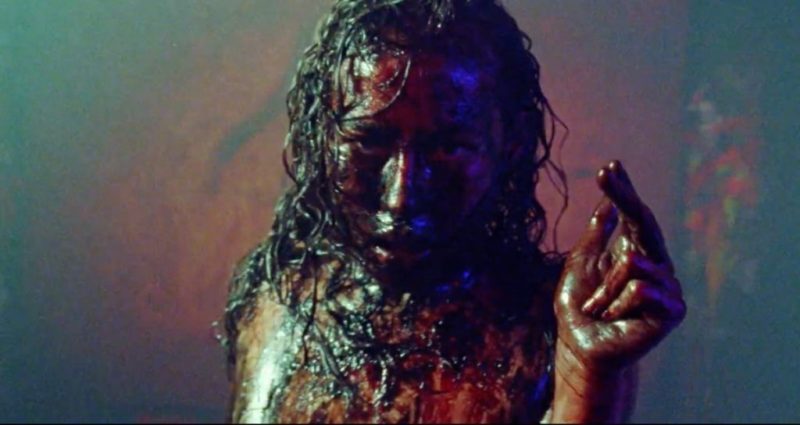 Dora Madison delivers an emotionally driven performance that is pure chaos. You can feel all her different emotions – bliss, rage, sadness, confusion, and so on. It's quite maddening to watch and experience.
Joe Begos continues to impress me with his creativeness and boldness. This is such a unique film, drenched in blood and layered with madness. I can honestly say I've never seen anything quite like this. I also appreciate that this is a female-driven story and I hope he continues to do more like it.
Final Thoughts
For me, without giving any spoilers, I took this as a new age version and story for one of our favorite blood-sucking monsters. I'm not sure if others felt that way, but I'm interested in seeing what others think as well. It was unique and bloody as fuck… that's for sure. Bliss is now available, November 12, on Blu-ray and DVD from Dark Sky Films.