Italian maestro, Dario Argento, decided to go full-on "bat shit crazy" for his 1985 film Phenomena. And for someone like Argento, that's really saying something!
Phenomena Synopsis
"A young girl who has an amazing ability to communicate with insects is transferred to an exclusive Swiss boarding school, where her unusual capability might help solve a string of murders."
Here's a look at the trailer!
We open with young girl Vera (Fiore Argento; Demons, The Card Player and Dario's other daughter…) losing her head in a most disturbing way after missing her bus. Eight months, and several slayings, later, Inspector Geiger (Patrick Bauchau; Big Ass Spider) and entomologist John McGregor (Donald Pleasence; Halloween, Prince of Darkness) are still investigating the murders, including McGregor's former assistant.
Meanwhile, American girl Jennifer (Jennifer Connelly; Snowpiercer) arrives at a Swiss boarding school, run by the mysterious Frau Bruckner (Argento's muse, the late, and amazing Daria Nicolodi; Suspiria), and students begin to notice her rather peculiar "gift". Soon Jennifer, Geiger, and McGregor are using Jennifer's unique talents, and McGregor's pet chimp Inga (Tenga the Chimp) to investigate the murders, while trying to keep their own heads and stay one step ahead of the killer, in true giallo fashion.
I'll try to remain pretty "spoiler free" because Phenomena is a great visual experience, even if you're not a hardcore Argento-phile.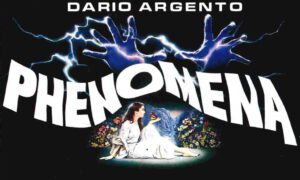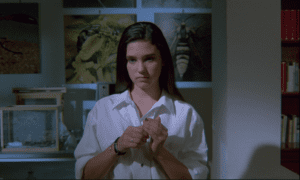 Phenomena is a true genre blender. At times you'll recognize: supernatural elements, giallo tropes, modern slasher flicks, nods to Argento's earlier films, and many others—I mean, how many other films feature: graphic beheadings, swarms of vengeful flies, mutant kids, hitchhiking maggots, and a razor-wielding monkey?? None. That's how many. And the production stories are priceless! Connelly had part of her finger bitten off by Tenga, who later escaped from an outdoor scene and went missing for three days.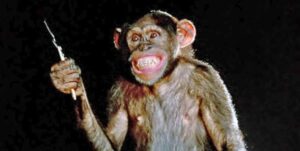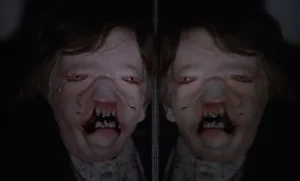 Released in the US in a terribly hacked-up edit titled Creepers, Phenomena was a certified hit in Italy, and on a smaller scale introduced a lot of the uninitiated to Argento's work in the States through its home video release. On Synapse's lovingly restored 4K release, it's never looked better. The lush visuals and odd shots that Dario is famous for are extremely well presented.
The soundtrack, featuring Iron Maiden, Motorhead, and Goblin is here too, in the various incarnations (including the Creepers edit) on the two-disc edition. There are a TON of extras, including trailers, interviews with the cast & director, and the exceptional 2017 documentary on Argento's catalog that Arrow Video produced. It's the perfect package for a truly insane film, definitely take the chance and grab a copy!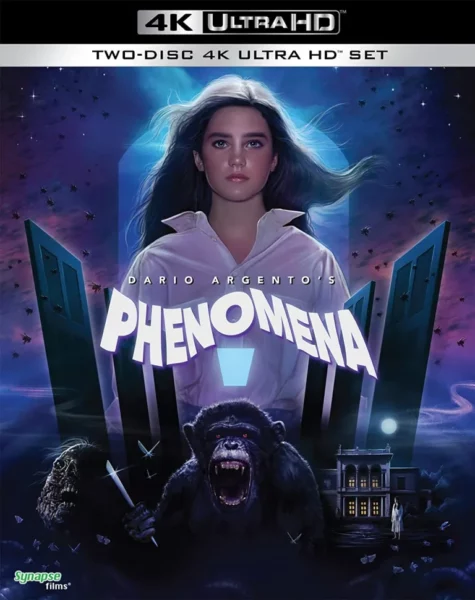 The Phenomena two-disc Ultra 4K Set is available now from Synapse Films at most major retailers.