I love the smell of Steelbooks in the morning! Francis Ford Coppola's epic war film, Apocalypse Now, is coming to Best Buy as an all-new, UHD Steelbook. We're talking about the Final Cut here, folks! You're definitely going to want to add this one to your Steelbook collection.
Read on for the details!
From The Lionsgate Apocalypse Now – Final Cut Press Release
From legendary auteur Francis Ford Coppola comes the definitive cut of his monumental Vietnam masterpiece, APOCALYPSE NOW: FINAL CUT. Apocalypse Now: Final Cut arrives October 19th on 4K Ultra HD™ Steelbook from Lionsgate, exclusively at Best Buy. This acclaimed Final Cut of Academy Award®-winning* director Francis Ford Coppola's visionary Vietnam War epic, starring Martin Sheen and Marlon Brando, is fully restored from the original 1979 film for the first time ever.

Enhanced with Dolby Atmos® and Dolby Vision®, as well as Meyer Sound's Sensual Sound for optimal audio and picture quality, APOCALYPSE NOW FINAL CUT lets you experience Coppola's cinematic masterpiece the way it was intended. Featuring all new artwork from artist Ken Taylor, Apocalypse Now: Final Cut will be available on 4K Ultra HD™ Steelbook at Best Buy for the suggested retail price of $27.99.
Here's a look at that Ken Taylor cover art!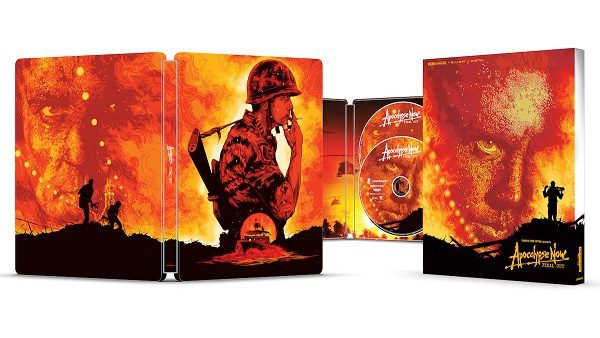 Very cool! It's been a bit since I last watched this one. Looks like I'll have a fresh excuse! This will look nice on my bookshelf alongside my other Steelbooks. Special features include a Coppola Final Cut intro. That should be interesting! You can pre-order your copy at BestBuy.com. Ships October 19!
What do you think? Will you add this Apocalypse Now Steelbook to your collection? Tell us in the comments!