Universal Studios Hollywood kicked off the Halloween Haunt season on September 12, 2019 with a Halloween Horror Nights Fan Preview Night. This year, they opened their gates to fans, with me among them. I was thrilled to receive an invite on behalf of PopHorror, to tread carefully among the creatures that came out to play. This was an amazing opportunity to experience Halloween Horror Nights before social media is flooded with videos of walkthroughs and spoilers. To steer clear of any of that, I decided to rank the mazes from favorite to least favorite and include some pros and cons.
Holidayz in Hell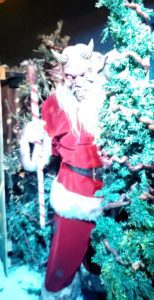 One thing that Creative Director John Murdy announced early on was that this year's Halloween Horror Nights was going to have some original concepts. Holidayz in Hell highlights all of our favorite celebrated holidays, with malicious and demonic twists. Attendees are in for a treat with this walkthrough, as it doesn't follow a particular path or pacing, like with some others created with movie inspirations. The scares and jumps are brilliantly placed throughout the maze, and, although there was some congestion, there were rooms that had more than one monster lurking in the shadows.
Pros: This maze scored at the top of my list for its originality and the universal concept behind the holidays that we all love to celebrate. There are plenty of opportunities to experience a fright, and the fun even extends beyond the exit. The production was seamless and the details are top notch.
Cons: With so much to look at, I feel that this idea causes a bit of congestion within the maze. The only thing I would suggest is to try to walk slowly throughout it.
Killer Klowns from Outer Space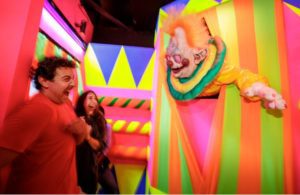 This maze was so much fun, equipped with a bright color scheme and neon dressings. It was easy to maneuver through. Although they didn't star in what is really considered a scary movie, the Killer Klowns really know how to catch onlookers off guard with their antics. The Halloween Horror Nights production team really nailed all the details, and the scare actors were spot on with their jumps and giggles as they fully embodied their characters.
Pros: The brightness of the maze helped direct attendees in the right direction while walking through. The music set the tone, and, even during the more serious moments, the experience was lighthearted and fun.
Cons: Some rooms had but one scare, although the maze makes up for it towards the end.
Creepshow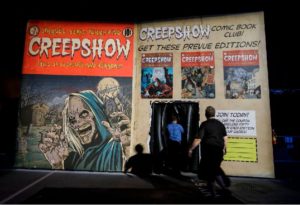 Inspired by both the 1980s classic and the new anthology series, the Creepshow maze blended old and new with terror, shocks, and an abundance of smells. This property is the perfect example of the pristine execution designers accomplish year after year. The cockroaches and sound effects teased at your senses, raising the hairs on the back of your neck. Proceed with caution, as this maze packs a punch to your nostrils; it offers a new kind of scare with so many other senses heightened.
Pros: There was iconic imagery that paid homage to the original film, and gave a special immersive sneak peek into the new Shudder series. The scares were bountiful and unexpected.
Cons: The only downfall for this maze was the lighting at one particular part. It was too bright and gave away the gimmick. Aside from that, this maze was flawless.
The Curse of Pandora's Box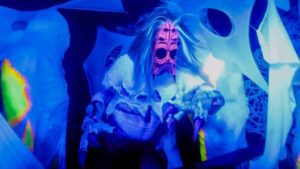 Continuing with this year's approach of originality, The Curse of Pandora's Box is another all new Halloween Horror Nights maze that spills the evils of humanity across a twisted, ancient Greek mythology-inspired experience. The maze was visually stunning with glow-in-the-dark effects and neon accents. Walking through it felt like passing into a completely different real; it was fantastic. Creatures blended into their environments and awakened to greet those passing through. Pandora's Box was filled to the brim with creepy music, authentic monsters, and an unpredictable outline.
Pros: The original design left me wondering what was around every corner, and, because the monsters were not easily spotted, the scares were climatic. The brightness of the maze paired with the inspirations created a unique immersive experience.
Cons: I don't have any specific downfalls for this maze – it was an enjoyable walkthrough.
Ghostbusters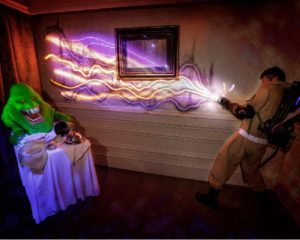 For the first time ever, the 1984 cult classic film, Ghostbusters, was brought to life at Halloween Horror Nights, and it did not disappoint. Every year, one maze is picked to have an actor that interacts with those waiting in line. Followers of Halloween Horror Nights' Twitter page got a secret password to whisper to this character in exchange for something in return. Louis Tully is the guy to look out for this year. The maze is laced with so much nostalgia and moments that made the film great, even after all these years. Ghouls, goblins, Gozer, and Slimer made this fight against the paranormal takeover one wild ride.
Pros: The techniques used to achieve the effects of the Proton Packs were movie quality. The maze held a balance of fun and scary moments.
Cons: There were some rooms where nothing was going on. I may be mistaking this as just my timing not lining up with the scares.
Frankenstein Meets the Wolf Man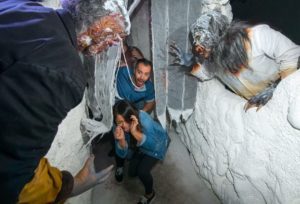 I am a huge fan of all things Universal Monsters, including this maze. Inspired by Universal's original cinematic monsters, the performances from the scare actors felt genuine and not over played. The set design brought me into a different era, but the scares were just as frightening as any other maze. Some of the rooms were small scaled which naturally brought interaction with the set and performers. The frights were in places I didn't expect, creating plenty of jumps and startles.
Pros: The details throughout the maze were beautifully orchestrated, and the atmosphere complimented everything.
Cons: This maze felt really short in duration. I wanted to see more.
House of 1000 Corpses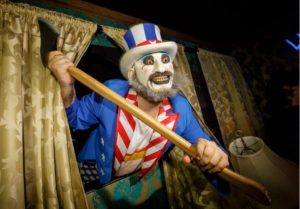 Based on Rob Zombie's 2003 cult film, House of 1000 Corpses depicts the film accurately. There were plenty of scares, but in some rooms, the energy was lacking. I hit this maze last, and that could be the reason. The creepy environment is the ideal backdrop for each family member as they prowl for victims… I mean, attendees. Captain Spaulding was represented phenomenally and Dr. Satan even stopped by. Although there were some appearances by Otis and Baby, there were significantly less than the others.
Pros: This Halloween Horror Nights maze is paced well and genuinely focuses on the sinister mind of Rob Zombie.
Cons: I wish I saw more of Otis and Baby. All characters are equally creepy and crazy – I could only imagine what hell would break loose if they all teamed up at one given moment in the maze.
Stranger Things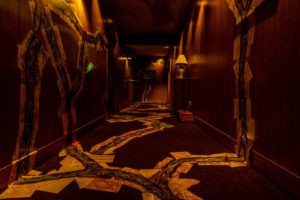 Based on Netflix's popular series, the Stranger Things maze follows season 2 of the show. Fans are taken on a journey through Hawkins while the vicious Mind Flayer looms at large in the Upside Down. The maze treatment outlined the events from season 2, bringing onlookers face to face with key characters and even the Demogorgon. It had spots where thin cords hung and tickled you in spine-tingling manner. With spots dimly lit, the people ahead of me ended up walking in the wrong direction.
Pros: The performers represented fan-favorite characters and gave staggering performances. Their energy magnified the experience for the Stranger Things maze.
Cons: The dimly lit areas throughout the maze made it difficult to maneuver. There was a bit of overuse of the Demogorgon (similar to the 2016 Exorcist maze with Pazuzu), which isn't such a negative thing, just noteworthy.
Us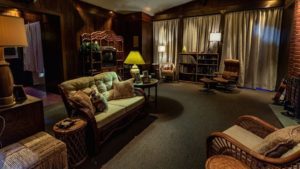 Based on Jordan Peele's critically-acclaimed film, Us is Halloween Horror Nights' most recent released film to be transformed into a maze. The production team and set dressers did a phenomenal job with Us. The atmosphere, combined with the music, furnished one eerie walkthrough. Again, these scare actors blew me away with their depiction of characters from the movie. The way they moved around meticulously, interacting with their surroundings and each other, was beyond entertaining.
Pros: By far, this maze had the best set of scare actors. The frights were there, and I personally felt that they were successfully carried out with the help of the music.
Cons: The scares were not as memorable as in other mazes.
The Walking Dead Attraction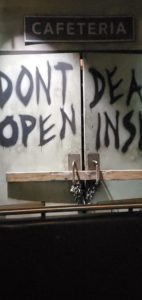 In years prior, The Walking Dead made a huge impact on Halloween Horror Nights' visitors. Due to its success, Universal Studios Hollywood constructed an attraction that would allow zombies of The Walking Dead to terrorize visitors year-round. I was amazed by how realistic the experience was when I first tackled it back in 2016. However, this year, it seemed to be a bit lacking, and I'm unsure if that's due to the show dying down, or because there weren't as many zombies as before. It seems as though they made adjustments to its set up. I hate to admit it, but this was my least favorite walkthrough.
Pros: No wait time and a photo op with walkers right outside the attraction.
Con: Completely lacking in comparison to its prime years.
Final Thoughts
Universal Studios' Halloween Horror Nights lands at the top of the list of Halloween Haunts for so many reasons. The movie quality construction, visual and sound effects, dressings, and attention to even the smallest details are all key components that create one memorable experience. There are so many thrills, screams, scares, laughs, and memories to be had. Although this is my ranking and my personal pros and cons, don't let it deter you from entering the event with a completely open mind. Be sure to wear comfortable shoes, don't overlook the rides opened during Halloween Horror Nights, and consider working your way from the lower lot up – this way, you're near the exits by the end of the night. I want to thank Universal Studios for extending their invitation to PopHorror this year, as I had such a great time and plan on visiting again.
Be sure to follow our Instagram account for highlights and live feeds. All Halloween Horror Nights tickets are on sale now. Click here to purchase and read through the FAQs to plan your trip.