What makes religious cult films so terrifying? It's the realistic aspect that puts fear in people's minds. Was The Sacrament successful in that aspect? 
(Synopsis provided by IMDb.com):
A news team trails a man, Patrick (Kentucker Audley), as he travels into the world of Eden Parish to find his missing sister, where it becomes apparent that this paradise may not be as it seems.
Released three years ago on May 1st, The Sacrament is a good mystery with such a realistic plot that brings a terrifying tale of realistic manipulation and power to the screen. The movie is more of a documentary horror film than a found footage film, where the editing actually makes sense, unlike the editing in found footage. I really liked the main characters. Fun fact: Joe Swanberg (Jake), AJ Bowen (Sam), Amy Seimetz (Caroline), and The Sacrament's director, Ti West, all worked together in You're Next (2011).
Bowen and Swanberg previously played brothers in You're Next and they had great chemistry in that film. In The Sacrament, they played good friends and co-workers and, once again, they worked really well together!
When it comes to casting, Gene Jones as Father was a perfect choice. When I first started watching his performance, I kept thinking that there's no way he's going to end up as a believable antagonist. But that's where the manipulation comes in. He seems like a caring old man trying to help his community, but the things he's done or convinced others to do definitely changed my mind about him.
I was a little disappointed that they didn't do much with the brother and sister storyline. The Sacrament barely touched on Patrick and Caroline's history, which was disappointing since the whole reason the team went to Eden Parish was to find her and bring her back. But then the news team focused on the place itself and it made me forget about why they were there. Patrick had his own camera, so they could've easily shot his perspective on Eden Parish and its effect on his sister. Instead, they just made him a minor character.
The climax at the end was so gut-wrenching and effective! There was something very realistic about the situation that just made me sick to my stomach. That's why I thought this movie was a success! The very end of the film was a little over the top and sort of shifted the tone, though.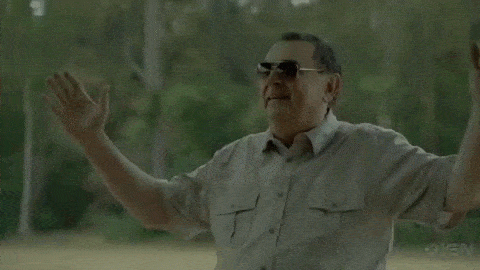 Final thoughts:
I highly recommend this film! It was simple yet very effective. If found footage horror is a deal breaker for you, you could be missing out on a fantastic film. Let us know what you thought of The Sacrament in the comments!