Shudder has been on a roll lately. They've been acquiring original films left and right to put on their service. Now they send word they've acquired the horror films Slapface and The Advent Calendar ahead of their FrightFest premieres (FrightFest is happening in London now, from August 26 – 30). Shudder plans to release the films in North America, the United Kingdom, Ireland, Australia and New Zealand.
Read on for the details!
ABOUT THE ADVENT CALENDAR
Writer/director Patrick Ridremont's French horror fantasy is an ornate and elegant chiller. Eva (Eugénie Derouand, Paris Police 1900), an ex-dancer, is now living in a wheelchair, unable to walk. When her friend Sophie (Honorine Magnier, Tomorrow is Ours) gives her an old wooden antique advent calendar before Christmas, she realizes each window contains a surprise that triggers repercussions in real life. Some of them are good, but most of them are bad, really bad. Now Eva will have to choose between getting rid of the calendar or walking again – even if it causes death and destruction to everyone she holds dear around her.

The film was produced by Alain Benguigui, Virginie Ogouz, Jean-Yves Roubin and Cassandre Warnauts.
This looks great! Check out the trailer below!
ABOUT SLAPFACE
Is there a relationship more special than that of a boy and his monster? After Lucas (August Maturo, The Nun) and Tom (Mike Manning, The Call) lose their mother in an accident, they think they only have each other to lean on. But Lucas has become fascinated by local myths of a monster (Lukas Hassel, The Black Room) in the woods, reciting the rhyme that kids have been repeating for generations whenever he walks by the abandoned hospital. When bullying girls from his school dare him to go inside, the rhyme comes to life and as Lucas' visits become more frequent, the disappearances begin. But surely the Virago witch would never hurt him?

Written and directed by Jeremiah Kipp, Slapface won the Audience Award at the Cinequest San Jose Film Festival this year. It also stars Dan Hedaya (The Usual Suspects), Libe Barer (Sneaky Pete), Mirabelle Lee (The Blacklist), Bianca D'Ambrosio (yA) and Chiara D'Ambrosio (yA). The film was produced by Joe Benedetto, Artisha Mann Cooper, Mike Manning.
Here's a look at the official poster art!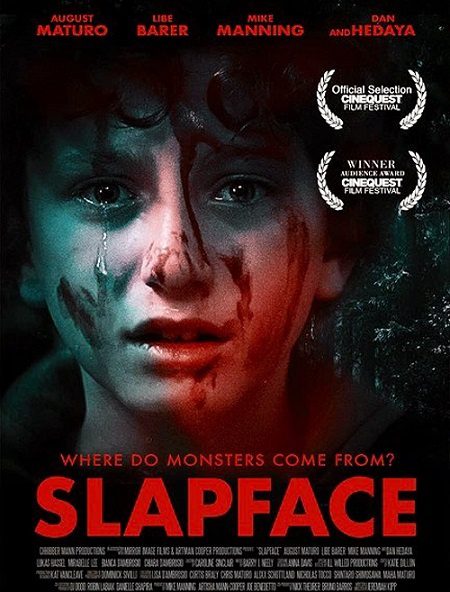 The Advent Calendar hits Shudder in December 2021. Slapface will debut in 2022. Watch for them!
Great stuff! Shudder's content selection keeps getting better. It's the best $5 or $6 a month you can spend on horror streaming. We love it!
What do you think? Are you looking forward to seeing The Advent Calendar and Slapface? Tell us in the comments!