The folks at Shudder send word they've acquired the rights to The Seed (2021)! This horror comedy/creature feature, directed by Sam Walker, will make its world premiere at Beyond Fest soon.
Read on for the details!

From The Shudder Press Release
NEW YORK – Shudder, AMC Networks' premium streaming service for horror, thriller and the supernatural, has acquired worldwide rights to the black comedy creature feature The Seed, ahead of the film's world premiere at Beyond Fest, in Los Angeles on Tuesday, October 5.The Shudder Original Film, which is written and directed by Sam Walker (Duck Children), will release in North America, the United Kingdom, Ireland, Australia and New Zealand in early 2022.

The Seed is produced by Shudder, Camelot Films and Hardman Pictures, in association with Lipsync Productions, Amp International, The Malta Film Commission and Ingenious Media. The film is written and directed by Sam Walker (Duck Children), while Matt Hookings, Chris Hardman and James Norrie serve as producers.
The film will make its world premiere on October 5 at Beyond Fest, in Los Angeles, CA.

The Seed (2021) Synopsis
In The Seed, lifelong friends Deidre, Heather, and Charlotte are finally getting some time away together, using the upcoming meteor shower to gather more followers for their social media channels. But what starts out as a girls' getaway in the Mojave Desert descends into a battle for survival with the arrival of an invasive alien force whose air of mystery soon proves to be alluring and irresistible to them. Before long the situation devolves into a battle to the death, where the stakes have galaxy-wide implications.
Sam Walker wrote and directed the film. It stars Lucy Martin (Vikings) Sophie Vavasseur (Resident Evil: Apocalypse), and Chelsea Edge (I Hate Suzie).
Here's a look at the poster art!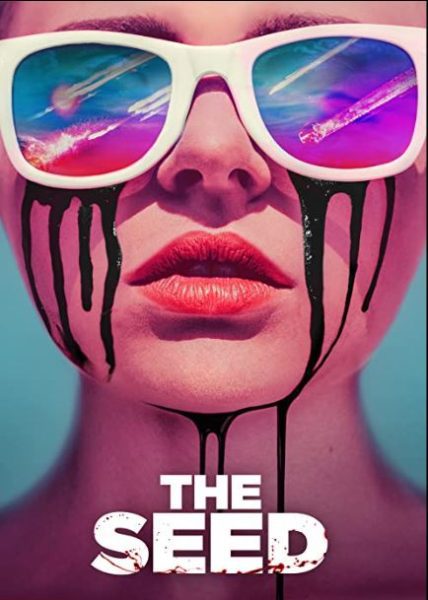 Sounds like fun! I'm looking forward to seeing the trailer! Hopefully soon. We'll get that posted for you as soon as we have it. Watch for it!
What do you think? Will you keep your eye on The Seed? Are you looking forward to watching it on Shudder? Tell us in the comments!