Fresh off its U.S. premiere at Kansas City's Panic Fest, Shudder has acquired the rights to Luke Boyce's new horror picture, Revealer! The film is coming soon, exclusively to Shudder. While you wait for the premiere, check out the official trailer and poster art!
First: the trailer!
Revealer (2022) Synopsis
What started off as a typical Chicago work day in 1987 for Angie Pittarelli, a dancer at the Revealers Bookstore peep show booth, turns tragic when her annoying boss is suddenly killed in an uprising outside the store leaving her trapped in the booth, unable to escape. Soon she learns that hiding out in the booth next to hers is none other than Sally Mewbourne, an overzealous religious protester that seems to get a kick out of regularly harassing Angie. Sally is in a panic claiming that the rapture has occurred and the apocalypse has begun. With nowhere left to turn Angie and Sally must separate their differences and come together to fight this unknown evil, navigating the treacherous bootlegger tunnels below the store to survive the unthinkable.
Emmy award winner Luke Boyce directed the film from a screenplay by comic authors Tim Seeley and Michael Moreci. It stars Caito Aase, Shaina Schrooten, and Bishop Stevens.
Here's a look at the official poster art!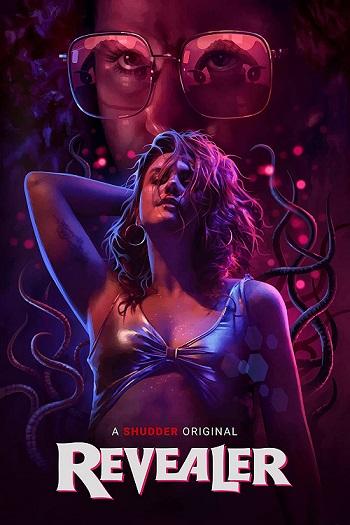 Revealer lands on Shudder on June 23 in the US, Canada, the United Kingdom, Ireland, Australia, and New Zealand. We can't wait!
This looks badass! What a great concept for a horror film. It's great the Shudder keeps finding these gems and bringing them to horror lovers all over the world. Great work, Shudder team!
What do you think? Are you going to check this out on June 23? Tell us in the comments!