I love revenge horror films. There's nothing more satisfying than seeing horrible people get what's coming to them. Iconic ones have come out over the years like 1978's I Spit On Your Grave and 1972's Last House on the Left. I've seen a few stories in the past year that have put their own unique spin on things including my recent watch called Psychos.
From Leomark Studios, Psychos is a 2017 revenge horror directed and written by Sandy Chukhadarian (Rome, Entourage). The film is based on a true story with a powerful women-driven cast including Angelica Chitwood (The Chosen), Deniele Cloutier (Subsurface Flow), and Melissa Elena Jones.
The story follows 3 young girls, Sasha (Chitwood), JJ (Cloutier), and Norma (Jones), who, after receiving traumatizing home videos of their past, travel back to the home they've tried long and hard to forget to take revenge on the people who tortured them 10 years before.
First, I really enjoyed how the story developed little by little in Psychos. Each girl receives a clip sent to their phone reminding them of their horrifying past. However, you don't know if it's the same thing or what is on the video until later. When the viewer finds out that they all escaped a horrendous situation together and that they're all going to go back to the house where it happened… is exciting but also terrifying. What if it all goes wrong? From there, the story unfolds slowly with twists and turns at every corner.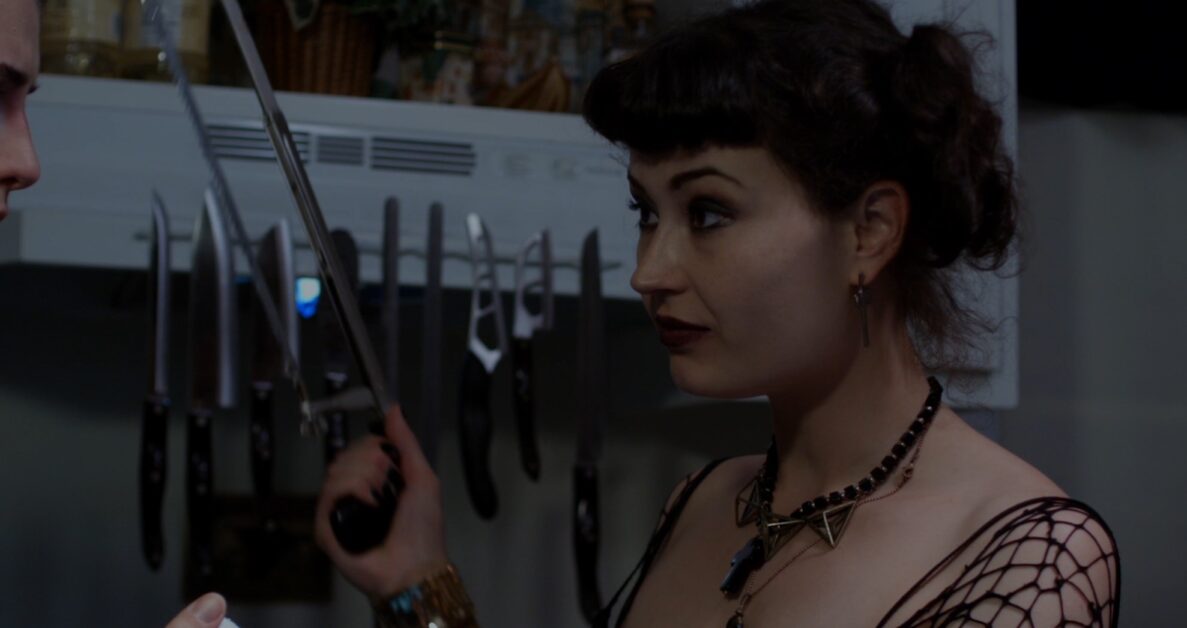 The character development was amazing throughout Psychos. I loved all of the characters and the actresses who played them. Each role was unique inside and out. Angelica Chitwood was perfect as the "I'm a pretty girl but will fuck you up if you look at me the wrong way" kind of gal. Deniele Cloutier's character was one of my favorites because she didn't let her past define her. She was strong, smart, and motivated, but also disturbed. Then there is Norma, who at first has the innocent act down to a tee, but then she switches things up on us. If you're wondering in what way – you'll just have to find out yourself by watching the film.
The antagonists in this film remind me slightly of the Mom and Dad in Wes Craven's The People Under the Stairs except they're far more sadistic and cruel in Psychos. They do horrifying things that you wouldn't ever wish upon anyone and just when you think it can't get any worse… the film raises the bar to an incredibly uncomfortable place. Basically, you'll probably want to take a hot shower after watching to wash away all the "ick" that you just witnessed.
Beyond adoring the characters, I really loved the ending. I didn't see it coming and loved how they went about it. Horrible but beautifully done. Unfortunately, stories like this do happen in real life and they aren't mean to be pretty or end like a happily ever after fairy tale.
Final Thoughts:
Overall, I immensely enjoyed Psychos and fell in love with it even more as the story progressed. It's by far one of the best revenge stories I've seen in awhile. The film digs deeper than just vengeance and has a unique twist that I think everyone will love. Plus, in case you were wondering, it delivers plenty of blood and gore! Psychos will be released on VOD March 17, 2017 – so make sure to check it out and let us know what you think!