A new trailer and poster have been released for the new post apocalyptic film directed by Tim Fehlbaum (Apocalypse) called The Colony. The film stars Nora Arnezeder (Army of the Dead), Sarah-S0fie Boussnina (Department Q), Ian Glen (Game of Thrones TV series), and Sope Dirisu (Gangs of London). It will be available in theaters, on VOD, and Digital on August 27, 2021.
Here is the new poster: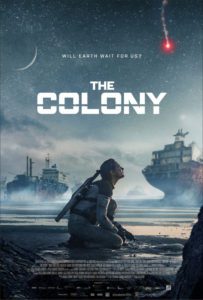 Synopsis:
Cataclysmic conditions on Earth forced a mass exodus to a distant planet. Generations later, a manned mission hurtles back to assess living conditions on the desolate, mostly submerged world. The sole survivor of the expedition is attacked by a violent band of scavengers, themselves locked in battle with a far more sinister foe. Now, mankind's very survival depends on the bravery and ingenuity of the lone astronaut.
Check out the trailer below: