Conor McMahon's hilarious horror comedy and festival hit, LET THE WRONG ONE IN, is now available in select theaters and on digital platforms! Need something fun to watch this weekend? Check this one out! We loved it (read our review here) and we think you will, too.
Check out the trailer below, then read on for the details!
LET THE WRONG ONE IN Synopsis
Let the Wrong One In follows young supermarket worker Matt, who is a little too nice for his own good. When he discovers that his older, estranged brother Deco has turned into a vampire, he's faced with a dilemma: Will he risk his own life to help his sibling, with blood being thicker than water? Or will he stake him before he spreads the infection further?
Conor McMahon wrote and directed the film. It stars upcoming Irish talent Karl Rice and Eoin Duffy, along with Buffy the Vampire Slayer icon Anthony Head, in the role of Henry; a taxi driver with a sideline in vampire hunting.
Here's a look at the official poster!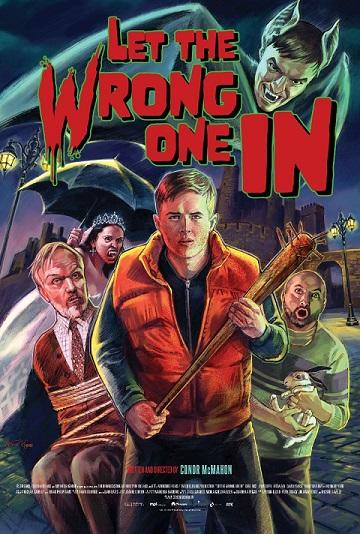 LET THE WRONG ONE IN hits theaters and digital platforms on April 1, 2022 from Dark Sky Films. Watch for it!
This looks like a ton of fun. I've been wanting to check it out ever since I read the Fantastic Fest review. I'm hoping to catch it this weekend! What about you? Are you going to tune in for a few laughs? Tell us in the comments!