Universal Pictures sends word David Gordon Green's Halloween Kills will hit theaters and streaming simultaneously. The latest installment in the venerable Halloween franchise has been delayed a few times already, but Michael Myers won't be denied. This Halloween season, evil comes home…again. When and how can you see it?
Watch the latest trailer below, then read on for the details!
HALLOWEEN KILLS (2021) Synopsis
Minutes after Laurie Strode (Curtis), her daughter Karen (Judy Greer) and granddaughter Allyson (Andi Matichak) left masked monster Michael Myers caged and burning in Laurie's basement, Laurie is rushed to the hospital with life-threatening injuries, believing she finally killed her lifelong tormentor.

But when Michael manages to free himself from Laurie's trap, his ritual bloodbath resumes. As Laurie fights her pain and prepares to defend herself against him, she inspires all of Haddonfield to rise up against their unstoppable monster.

The Strode women join a group of other survivors of Michael's first rampage who decide to take matters into their own hands, forming a vigilante mob that sets out to hunt Michael down, once and for all.

Evil dies tonight.
David Gordon Green directed the film from a screenplay he wrote with Scott Teems and Danny McBride. Jamie Lee Curtis, Judy Greer, Andi Matichak, and Nick Castle reprise their roles. Anthony Michael Hall, Kyle Richards, and Dylan Arnold join them for the sequel.
Here's a look at the official poster art!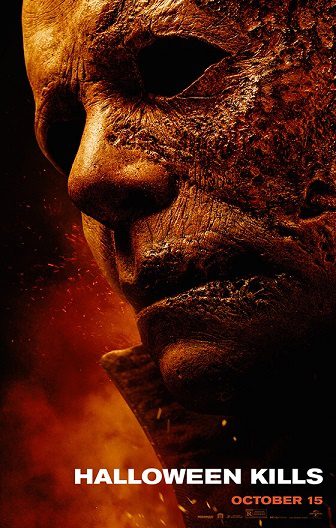 Halloween Kills hits theaters and Peacock on October 15. The film will stream as part of Peacock's premium tiers, which are $4.99 per month (ad supported) and $9.99 per month (no ads). Get your subscription now at www.peacocktv.com!
Exciting news! I'd love to see this in theaters, but with COVID and family obligations, I'll be just fine watching at home. Thanks Universal!
What do you think? Will you check out Halloween Kills in theaters? Or are you streaming it on Peacock? Let us know in the comments!