Here On Out is a new horror film written and directed by Matias Breuer (Three Cigs 2014) and Liam Hall (Stay & Run 2016). The film stars Nicole Brydon Bloom (A Small Family Affair 2020), Austin Larkin (The 45th Annual Model United Nations All-Star All-School Conference), and newcomer Claire Lord.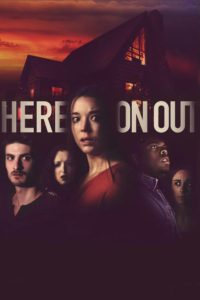 Film Synopsis:
A twisty coming-of-age tale about a group of friends who start to suspect supernatural forces are hunting them while on a weekend trip to the mountains.
The first thing I noticed when watching this film was how professional it looked. For an indie film, the production value is incredible. From the well thought out shots to the natural dialogue, it flows nicely. The filmmakers did a wonderful job at capturing the nostalgia these friends have.
The cinematography by Chris Carter was impeccable. The use of rack focus in certain scenes really helped drive the story and was truly flawless. Carter is also an editor, along with Breuer and Hall. Like the camera, the editing was well done without hiccups.
I thoroughly enjoyed the acting throughout the movie. Here On Out's cast is wonderful. Their dialogue is fluid. You can see the chemistry and the diversity each actor brought their role. The actors in Here On Out deserve to be recognized: Nicole Brydon Bloom, Austin Larkin, Claire Lord, Fergie L. Philippe, and Tess Tregellas.
The Horror! 
Here On Out is a slow burn; don't expect the horror to jump right out at you. It takes its time building the characters and their relationships before it all comes crashing down. The scares are subtle, but they do a good job at leaving you feeling uneasy. There is a great sense of paranoia distributed by each character that felt genuine.
But when the horror hits you, it's like a punch in the mouth, and it doesn't stop until the end credits.
Overall, Here On Out is an excellent film. It was directed and written beautifully and has a talented cast that brought the script to life. The film comes out on December 15, 2020, and you can preorder it on iTunes now.
Follow us on Twitter @PopHorrorNews for more reviews!