The diehard fanbase of Child's Play may have to wait some months for the return of SYFY's Chucky series, which wrapped up its premiere season in November 2021, but in the meantime, two franchise stars are gracing the world with extra content surrounding everyone's favorite supernaturally-possessed Good Guys doll.
Alex Vincent (our interview) who portrays Andy Barclay, and Christine Elise (our interview) as his foster sister, Kyle, recently announced their intent to host a brand new podcast titled Chucky Talks. As its name suggests, the podcast will focus on all things Chucky and provide behind-the-scenes information about the show. According to Vincent, who has been excitedly promoting Chucky Talks during his near-daily Instagram Live sessions, the podcast is slated to launch by the end of January and will feature interviews with various cast members.
Special guests on Chucky Talks have yet to be determined, but there's plenty of great options. The cast of Chucky includes not only beloved faces from the Child's Play movies, including Jennifer Tilly as Tiffany Valentine, Brad Dourif as the voice of Chucky and his daughter, Fiona Dourif, as Nica Pierce, but a slew of newcomers like Teo Briones (our interview) as Junior Wheeler and Zackary Arthur as Jake Wheeler, who are introduced to the terrors of Chucky in the series. We also can't forget the man who started it all, Don Mancini, the brains behind the entire franchise.
Vincent and Elise make their grand appearance on Chucky about midway through the season. While undercover as census takers, this badass duo travels the country to track down and destroy the slew of Good Guys possessed by the soul of Lakeshore Stranger, Charles Lee Ray. Following a panicked call from Jake, they set out to help Chucky's next generation of victims.
The two first shared the screen together in Child's Play 2, released in 1990, which sees young Andy being sent to live with a foster family. His mother, Karen (Catherine Hicks), was previously placed in a mental facility because no one believed her story that her son's doll came to life. Andy bonds with Kyle, whose tough girl exterior melts away as she attempts to save him from Chucky. Thanks to this touching foster sibling relationship and the unforgettable final battle at the Good Guys factory, Child's Play 2 has been hailed as one of the franchise's best. Fans had their fingers crossed for Vincent and Elise's inclusion in the TV series, and they got their wish.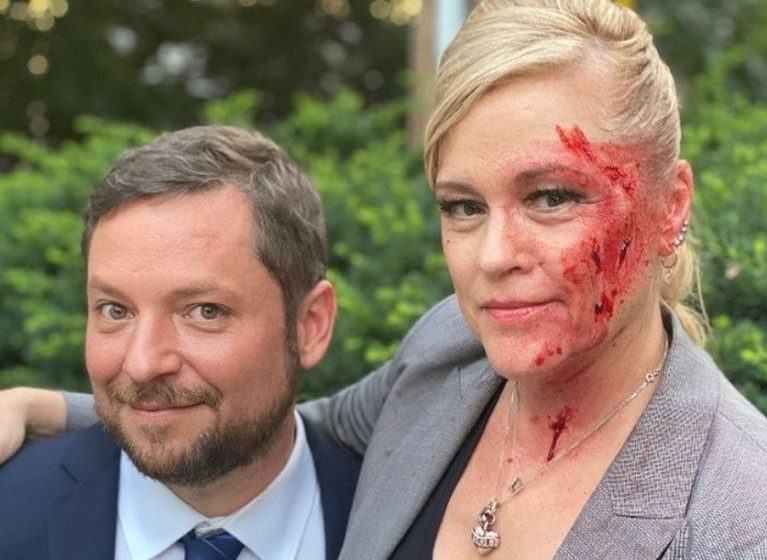 After receiving so much love from viewers, Vincent and Elise, who boast a strong real life friendship similar to that of Andy and Kyle, have been giving back. They make regular horror con appearances, interact with their social media followers, and will soon present the Chucky Talks podcast, the name of which was the brainchild of Elise.
More information and updates on Chucky Talks can be found on the Instagram pages of Vincent (@alex_vincent) and Elise (@christineelisemccarthy).