When the second season finale of AMC's The Walking Dead first premiered, fans were introduced to one of the series' most hard-bitten characters – the katana-wielding Michonne. Not only did this dreadlocked badass come with a severe, stoic attitude and some mean sword skills, but she also brought with her some Walking Dead firsts – two armless, jawless Walker pets, bound by chains, which she used to keep her human scent hidden from the other zombies. Moses Moseley, the actor who played Michonne's pet Walker Mike, is still walking on the horror side, currently working on some new projects that are soaked in blood and twice as heavy. This past Fourth of July weekend, we sat down and talked with him about his exploits on the set of The Walking Dead and even got a glimpse into what the future holds for this versatile actor.
PopHorror – First of all, thank you so much for taking the time to sit down with us and answer some questions. I know you're probably really busy with Fourth of July stuff this weekend and I appreciate the fact that you're willing to take some time out for us at PopHorror.com.
Moses Moseley – The pleasure is mine – thank you for having me!
PopHorror – First of all, let's start with your part on The Walking Dead. You were chosen to portray one of Michonne's armless, jawless pets, along with Theshay West. You must have spent a lot of time in the makeup chair! What was that like?
Moses Moseley – Working on The Walking Dead was an amazing experience. Everyone from the cast to the crew were some of the most inspiring and overall nicest people I ever met. Just observing them as they worked was so educational and enlightening. The make up artists are definitely the best in the business. The make up process was awesome it took about 2 1/2 hours for me to be made up.
PopHorror – Speaking of makeup, what were you thinking the first time you saw yourself in full walker makeup?
Moses Moseley – The first thing I thought of when I saw myself in make up was, "Wow, I look ugly!" (laughs)
PopHorror – (laughs) I bet! What did you learn from Greg Nicotero? What about the rest of the cast and crew?
Moses Moseley – Greg Nicoterro is one of the most talented, down to earth people I've ever met. One of the things I learned from him is how to walk like a zombie. There's surprisingly a fine art to it! (laughs) From the other cast and crew, I'd have to say I learned how to be a real actor. The Walking Dead was actually the 4th production I had worked on at the time so I was still relatively new to the craft. Just observing how they all prepared and got into character was one of the most enlightening opportunities I've ever had.
PopHorror – What's the biggest thing you took away from your stint on The Walking Dead?
Moses Moseley – The biggest thing I took away from my time on the show was to never stop working.
PopHorror – What was your most favorite part about playing a zombie? What was your least favorite part?
Moses Moseley – My favorite part of being on the show was learning from everyone and understanding how everything works on and off the set. I honestly didn't have a least favorite part.
PopHorror – What did it feel like when you saw yourself on the cover of Entertainment Weekly? How did your friends and family react?
Moses Moseley – Getting on the cover of EW was an amazing blessing. I was beyond honored to have been a part of it. My friends and family were extremely happy for me. I recall my mom calling me on the phone, yelling with excitement when she first saw the cover on display at her job.
PopHorror – I can't even imagine having to wear all that latex! Would you take another part that involved that much makeup and prosthetic application?
Moses Moseley – I would love to do another part with that much prosthetic again.
PopHorror – Do people recognize you?
Moses Moseley – I've been recognized a couple of times out in public and airports. It still kind of freaks me out because I consider myself a normal person but I'm just honored to get the attention (laughs).
PopHorror – You're currently filming a sequence for the upcoming Volumes of Blood 2: Horror Stories. What can you tell me about the movie itself? What kind of horror film are we going to see? Tell me about the storyline.
Moses Moseley – The Volumes of Blood: Horror Stories short that I'm filming is the third installment of a series of horror stories. It's not the typical slasher or gore story line. It has more of a dark and twisted feel. The story starts off with a typical guy and his girlfriend moving into a new house together. Everything is going great at first but later on strange things start happening around them. My character, Steven, is good friends with Andrew and is trying to reassure him that everything is ok, that it's all in his head. Without spoiling anything, Steven later finds out it's not all in his friend's head and there is something very terrifying going on.
PopHorror – Which segment will you be starring in?
Moses Moseley – I will be staring in the main Horror Stories segment.
PopHorror – I loved the first film and I'm honestly so excited to see this sequel. Tell me about your cast and crewmates. What was it like, working with them?
Moses Moseley – The cast and the crew are all amazing and highly talented people. They were all so helpful and easy to get along with.
PopHorror – Where was the movie filmed? How long did it take?
Moses Moseley – The film was shot in Owensboro, Kentucky. It took about a month to shoot the entire movie.
PopHorror – When does/did the filming wrap up?
Moses Moseley – We actually wrapped with the film on the 26th of June.
PopHorror – What's the biggest thing you took away from working on Volumes of Blood 2: Horror Stories?
Moses Moseley – The biggest thing I took from the film is that teamwork while making a film makes the difference. I was truly impressed at how efficiently the production ran and how well everyone worked together to get the job done.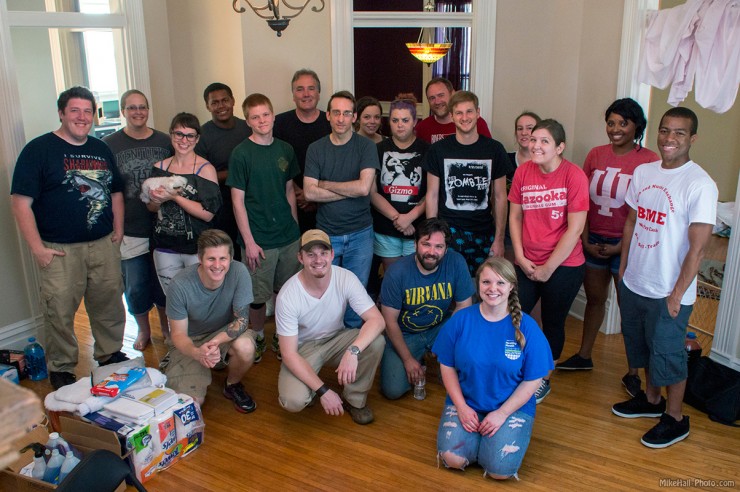 PopHorror – How does this movie make you feel about buying a house?
Moses Moseley – Filming this movie definitely made me appreciate my apartment more (laughs). It made me consider the fact that you never know what could have happened in a house with its previous owners. Safe to say I'll definitely be doing an extensive background check on the house I decide to buy (laughs).
PopHorror – (laughs) I just bought my first house, so I can totally relate! Do you have any funny stories to share, on or off the movie set?
Moses Moseley – One of the funniest things that happened while I was on set of Volumes of Blood was, from time to time, the director would call out, "Quiet on set!" During that time, everything would get so quiet, to the point where you could hear a pin drop. Every now and again, I would hear the pitter patter of small footsteps and it would be the little dog of the amazing make up artist Cassandra Baker walking back and forth (laughs). I just thought it was hilarious how small it was but how we could hear his footsteps so loudly when it was quiet.
PopHorror – I bet that little dog had no idea how loud he was, either (laughs). Do you prefer working on big budget productions or tightly knit, indie films?
Moses Moseley – I don't particularly have a preference in terms of big and small budgets. For me, it's the people involved that make the production good or bad.
PopHorror – That's a great way to look at it. Now I have to ask – are you a horror movie fan? If so, what are your favorite horror movies?
Moses Moseley – I am a big time horror movie fan! Some of my favorite horror movies growing up were the Chucky, Candyman, Nightmare on Elm Street and Jason series.
PopHorror – Tell me about any future roles you have coming up.
Moses Moseley – Currently, I have one movie I am filming in Ohio in September called the Descending, which is another Horror/Sci-fi flick. I will be portraying a quirky vampire hunter named Tyson, so I'm looking forward to that (laughs).
PopHorror – If you could portray anyone in history – living or dead – in front of the camera, who would it be and why?
Moses Moseley – If I could portray anyone in history it would be Malcolm X. Growing up he was always one of my heroes and one of the historians I respected the most. I hear from a lot of people that I look similar to him, too (laughs). So I think that would be pretty awesome to portray him on screen.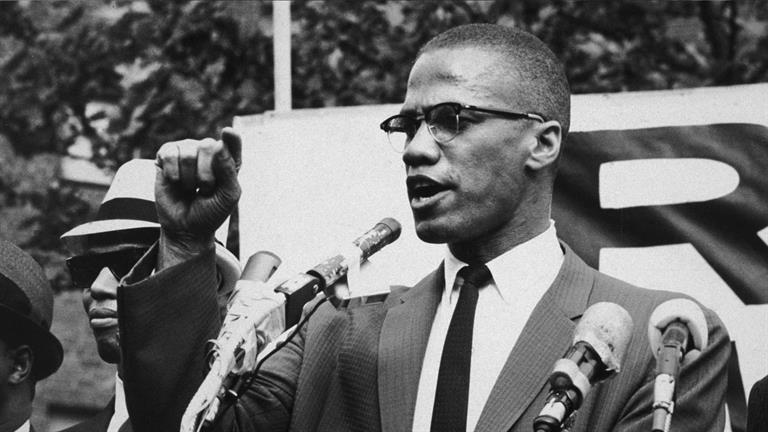 PopHorror – I didn't even realize it, but you do look just like him! I was reading that you had struggled with your weight as a teen. Can you tell me about that? What inspired you to make a change?
Moses Moseley – Growing up, I was overweight most of my life and it wasn't till I reach the age of 18 that I decided to actively do something about it. I basically came up with my own workout schedule and diet plan and it took me two years to lose the weight. I've been able to keep it off ever since. I firmly believe losing the weight inspired me enough to pursue my career. I'd say waking up every day and hating how I felt and how I looked inspired me to change my life.
PopHorror – Do you have any advice for people struggling with the same issues?
Moses Moseley – The best advice I can give to individuals going through the same issues I faced is to never doubt yourself. If you put your mind to it, you can accomplish anything. It's ok to get discouraged from time to time but don't let that stop you from reaching your goal.
PopHorror – That's really inspiring! It's awesome that you were able to do that all on your own. What a great way to end this interview! Thanks so much for talking with me. I seriously appreciate it. I hope you have a fantastic Independence Day!
Moses Moseley – The pleasure was mine! I hope you have a great Independence Day as well.