This month, we're celebrating women who have made an impact to the horror genre. I find that the horror genre has vampires as one of the most prominent themes. From Dracula to True Blood, vampires are on the scene and continue to be popular. With Buffy the Vampire Slayer celebrating its 20th anniversary, I would like to take some time to recognize one of my favorite female vampires: Buffy's Drusilla.
Drusilla stands out as one of the best vampires. Drusilla was sired by Angelus in 1860. She could see the future and, after becoming a vampire, became insane. Angelus had used her ability against her, he manipulated her calling her the spawn of Satan. It probably didn't help that her entire family was slaughtered in front of her. Angelus wanted to break her,and it worked. She became a vampire and a lunatic. 
Drusilla is absolutely insane. Nothing she says makes sense. My favorite line of Drusilla's is, "I'm naming all the stars." Her line is followed by Spike saying, "You can't see the stars, love. That's the ceiling. Also, it's day." Her sayings are crazed but some of them are poetic in a way.
A vampire must have a unique kill move. Drusilla has razor sharp nails, and she killed Kendra Young (Bianca Lawson). She also has the ability to get into people's heads. When she interrogates a kidnapped Giles, she makes him see her as his dead lover, Jenny Calendar (Robia LaMorte). She also has other skills that make her dangerous: vampire abilities, precognition, empathy, power detection and the skill of divination.
Drusilla is portrayed by Juliet Landau, who personally has a love of vampires. She's currently working on a doc-series about vampires called A Place Among the Undead. The doc-series features some big names in the vampire world: Joss Whedon (Buffy the Vampire Slayer), Tim Burton (Dark Shadows), Gary Oldman (Dracula), Willem Dafoe (Shadow of the Vampire), and Anne Rice (The Vampire Chronicles).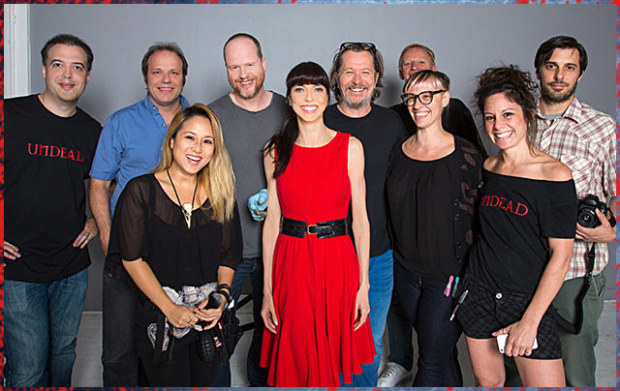 Final Thoughts:
Drusilla has been one evil female vampire, which is why we're honoring her during Women in Horror Month. The character is a crazed vampire, which is right up my alley.