Almost twenty years ago, Disney made an original movie titled Halloweentown. While it may not have the critical acclaims, it has a strong following. A following so strong, there is even a month-long festival in October. Spirit of Halloweentown Festival located in the filming location, St. Helens, Oregon.
In case you forgot what Halloweentown is about or haven't seen it (gasps) here is the storyline:
Marnie, Dylan, and Sophie Piper have their first out of many adventures! On Halloween, while Marnie is arguing with her mother Gwen, the kids' grandmother Aggie comes to visit. Aggie wants to start Marnie's witch training before her 13th birthday or Marnie will lose her powers forever. But there is another reason for Aggie's visit. Something dark & evil is growing in Halloweentown & Aggie wants help to defeat it. While Aggie & Gwen are arguing, Aggie uses magic which Marnie observes. After Aggie leaves to return to Halloweentown, Marnie, Dylan and, unknown to Marnie and Dylan, Sophie follow her onto the return bus. Soon afterwards, Gwen follows the children to Halloweentown. While there, Aggie & Gwen are attacked by the dark force in a movie theater. Marnie, Dylan & Sophie race to get the ingredients to activate Merlin's Wand to stop the evil. –Written by LepricahnsGold & Corey Semple (IMDB)
This past weekend, the Cromwell family reunited at the festival. My they have grown up!
From left to right: Emily Roeske (Sophie), Joey Zimmerman (Dylan), Judith Hoag (Gwen), Kimberly J. Brown (Marnie)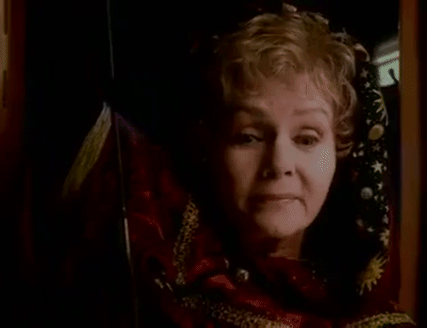 The cast began by honoring the late Debbie Reynolds, who played Aggie Cromwell.
They then lit up the big ol' Jack-O'-Lantern by using the spell that lights up Merlin's talisman.
2017 Pumpkin Lighting & Cast Reunion

2017 Spirit of Halloweentown pumpkin lighting and cast reunion with tributes to Debbie Reynolds! Sorry the live feed kept cutting in and out last night, guys. We had a lot of people in the area all trying to use cell phones at the same time. #SpiritofHalloweentown #StHelensOR

Posted by Spirit of Halloweentown on Sunday, October 15, 2017
How much fun is this? We would have loved to have been there to share in the festivities. If you have an interest in Spirit of Halloweentown, follow their Facebook page for more pictures, videos and events here. Anyone out there been to this? Let us know here.