Although I love indulging in Christmas horror, I'm all about watching any type of horror movies during the Holiday season. That's why I'm stoked to announce that Syfy will be celebrating Christmas Eve and Christmas Morning with A Nightmare on Elm Street franchise marathon!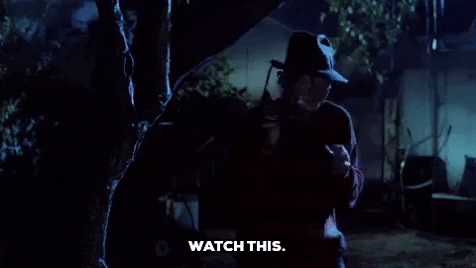 It's the ultimate nightmare before Christmas and not a single person sleeping on Elm street is safe. Honestly what could be more perfect? Santa Claus and Freddy have a few similarities including the fact they both come around when you're sleeping. One leaves you sweet gifts and the other ensures you'll never wake up again.
Syfy's A Nightmare on Elm Street franchise marathon begins late Christmas Eve night and continues throughout Christmas morning. It's the perfect binge marathon if you plan on staying up all night or to finish wrapping those last few presents. Check out the schedule down below!
December 24th:
10 pm – A Nightmare on Elm Street (1984)
December 25th:
12 am – A Nightmare on Elm Street 2: Freddy's Revenge
2 am – A Nightmare on Elm Street 3: Dream Warriors
4 am – A Nightmare on Elm Street 4: The Dream Master
6 am – A Nightmare on Elm Street 5: The Dream Child
8 am – Freddy's Dead: The Final Nightmare