Horror icon Stephen King turns 70 years old on September 21!  What better way to celebrate than by streaming one of his films?  Netflix and Amazon Prime streaming have you covered!
Now, admittedly the Stephen King selection this year isn't that great. Still, odds are you'll still find something you'll like. Here's a look at 4 Stephen King films currently available to stream for your viewing pleasure along with select quotes, factoids, and film commentary from the man himself.
DREAMCATCHER – Stephen King called DREAMCATCHER a "train wreck" in a 2007 interview with TIME Magazine.  That might be a little harsh for a film with an amazing cast (Thomas Jane, Jason Lee, Morgan Freeman) and a 36% audience score on Rotten Tomatoes.  We haven't reached greatness on this list yet, but this movie has some truly terrifying stuff in it.  You might not want to go anywhere near a bathroom by the time this baby is over.
CHILDREN OF THE CORN – I don't know about you, but every time I drive past a huge corn field, I think of this movie…and it's 30+ years later!  Yes, this movie had a profound effect on me as a kid.  Stephen King tells Deadline Hollywood "I actually like the original pretty well. I thought they did a pretty good job on that."  I agree.  Linda Hamilton delivers a memorable performance in a low budget film that went on to inspire WAAAAAY too many sequels.
THE DEAD ZONE – This one might be a little too real to watch in today's political climate. Stephen King himself is quick to point out to Mashable the parallels between the fictional Greg Stillson and our real life, current U.S. President. Politics aside, this is a damned good movie and Amazon Prime has it streaming for you. As a side note, the TV series wasn't half bad, either!
And finally…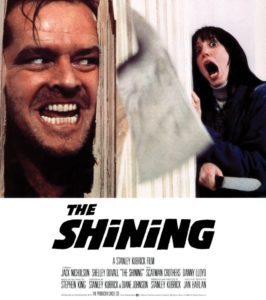 THE SHINING – Stephen King's dislike for The Shining is well known, though the movie is a fan favorite. Speaking with Indiewire, King called the movie "A big, beautiful Cadillac with no engine inside it." Ouch. His main beef? Wendy Torrance. Shelly Duvall is certainly memorable in the role, but King insists that's not the character he wrote. In his words, Wendy is "one of the most misogynistic characters ever put on film."
King's gripes aside, The Shining is great, and you should totally watch it! 
There you have it! 4 films to stream in honor of Stephen King's 70th birthday! If Netflix isn't your thing, you can always catch IT (2017) in theaters now. And if you want to wish Mr. King a happy belated birthday, Gerald's Game hits Netflix next Friday. Mark your calendars!
Here's wishing a very happy 70th birthday and many happy returns to Mister @StephenKing!