Julian Shaw is the director and actor behind the new thriller, Use Me. This is such a great film and I haven't seen anything like it before. I was stoked to chat with him about his career, the inspiration behind this film, and more.
Synopsis
An ambitious documentary filmmaker discovers the darkest parts of himself when he turns his camera on a beautiful woman who humiliates men for money.
PopHorror – Hi Julian. It's great to talk to you. What inspired you to get into the filmmaking business?
Julian Shaw – Great to talk to you too! And may I say I'm so happy that the horror community is getting behind this movie because to me it totally is a slow-burn, head f**k horror movie. My Mum took me to see the movie Deconstructing Harry when I was about 11 and that's probably the moment I'd pinpoint as to when I wanted to become a director. Before that my favorite movie was Independence Day with Will Smith (great movie, don't get me wrong). But I realized that movies could be more than action blockbusters – they could be about sexuality and break-ups and the messiness of life and I was hooked.
PopHorror – So very true! You dabble in both acting and directing. Do you prefer one over the other?
Julian Shaw – Directing a project, especially if you write it, is going to take years of your life. The stress is constant. Acting is so different – you can get an audition for the next day, book the part three days later and be on set the following week. So that quicker turnaround helps me keep my sanity. Acting is equally hard to do well, but the pressure has peaks and troughs throughout the day whereas directing is a straight line of constant pressure. So for that reason, I'd say I enjoy acting more, but in order to give a performance that is decent you have to dig so deep and connect to something real and there's such an emotional price to pay for that. It's going to be a lifelong journey for me to keep working on that craft, but right now I'm probably enjoying the acting a little more. I'm also a little burned out on the process of directing and releasing a film so my answer may be different in a month.
PopHorror – Understandable! Your newest film is a dark thriller. Do you enjoy this genre and if so what's your favorite film?
Julian Shaw –Love thrillers. Definitely my go-to genre when I am searching for a movie to watch. I unashamedly love a good 'erotic thriller' too even though I was told that term has been retired! Hard to go past Vertigo, Seven and Memento off the top of my head. Dan Gilroy's Nightcrawler was a big inspiration for Use Me actually – loved how it set a fictional story in a very realistic, well researched and detailed world. I'd love to work with him in the future.
PopHorror – All great films. You wrote, directed, and starred in your newest feature Use Me. What inspired you to make this film?
Julian Shaw – I met with Ceara Lynch in Portland in 2013 about doing a documentary on her life and career as a mental humiliatrix. I followed her with my camera for a few days. I fell in love with her as a subject but felt a pure documentary might be too constrictive given how bat shit crazy her world was. Because she blurs the line between truth and fantasy in her work I realized I had a license to do the same with the form of this movie. I also sensed she had some performance chops she had never gotten to flex and started to wonder about what kind of performance I could get from her and then my creative juices were really flowing. I definitely felt a bit trapped by the idea of the 'pure documentary' format from day one, particularly because I wanted to delve into the secret world of her clients and I knew that would be tough due to privacy. I will say the fictional aspects of the film are based on real-life and research.
PopHorror – That's so awesome. I love it. Something we've never really seen before until now. How did the casting process come about? Did you know you wanted to star in the film right away?
Julian Shaw – I didn't think I'd be in the film initially. But it became apparent that I was the outsider coming into this world and that in classic noir fashion I would have to be the one who was changed by it. I wrote a script where Ceara changed and grew and it was corny, to be honest. I also wrote a script version where I wasn't in it and my producer Jonathon Green didn't care for it. Given the tight budget and our filmmaking methodology, we literally could never have made this film if Ceara and I were not the leads. Creatively it was the right decision and I guess in retrospect I'm glad I cast myself! (Laughs).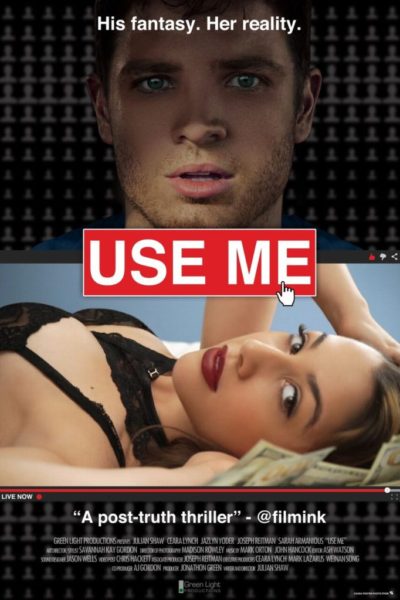 PopHorror – I'm glad you did too! You, Jazlyn, and Ceara all have great chemistry in the film. Do you guys know each other beforehand?
Julian Shaw – There was definitely a spark between all three of us, but you never quite know how it will come across on camera. The less sexy truth is that Ceara and I are great friends and there is so much trust there so we can portray a fight or a sex scene and really go there because it feels safe. Jazlyn Yoder is just an amazing young actor who will go far. Jazlyn and I have the same manager in LA, Nicholas Bogner, and he encouraged me to look at a tape of her when I told him about the part I had written. I was blown away by her emotional vulnerability on screen. I still feel bad about how I scheduled the film though. She had never kissed a girl before and her first day on set was a make-out scene with Ceara. I kinda just said, "Well, Jazzy, better to jump straight in the deep end right?" She was a total pro. She couldn't be more different from her character, but I already know a lot of men want her to switch careers from actress to dominatrix after seeing the movie!
PopHorror – Haha, that's awesome! There are some pretty dark scenes. Do you have any favorites without giving any spoilers away?
Julian Shaw – I will say that Ceara and I sleep together in the film and I truly believe it's the most important scene in the movie because it changes the trajectory for both our characters 100%. I'm all for a racy sex scene but if it actually moves the story forward and reveals character then to me that is SO much more satisfying. I love how my scenes with Sarah Armanious came out. She actually is my ex-girlfriend of 10 years and we went to a place of vulnerability in the scenes in this film that I couldn't imagine doing with anyone else. She really helped me pull off the blurring of the line between truth and fiction and she was courageous and committed to the vision I had for the film even though it called on us to expose a lot. She's also one of the best actors working in Australia today, period, so frankly we were lucky to get her. Luckily I could pull some strings given our past together. (Laughs).
PopHorror – She was amazing. Everything turned out so well. What do you want the audience to take away from this film?
Julian Shaw – I want them to have a damn good time! It's a fun, sexy and scary movie. So if they're entertained and on the edge of their seat from beginning to end that's everything to me. Beyond that, there are a lot of themes about addiction, consent, technology and the horrifying vulnerability of male sexuality. It's an ambitious film and I'm trying to say a lot with this movie and wrapping it up in a sexy package, but it seems people are digesting the themes I tried to talk about, so that's great.
PopHorror – Any upcoming projects?
Julian Shaw – This project is catching on with people and there seems to be an appetite for more, which is a dream come true! It has inspired some follow up work in the same cinematic universe if you will. (Laughs). Ceara and I just released an extended scene from the movie on an adult clip site and it went to #1 out of 7 million. I'll be vlogging about that on my YouTube channel (https://m.youtube.com/user/DarlingMedia).
I also am working with Joe Reitman on a documentary exploring what it would take for him to become a fetish star – it's approaching the same themes as the movie in a more comic fashion. Joe is a great talent to work with and we have a great creative shorthand now after knowing each other for years. I have another thriller project I am developing in the same blurred lines space as Use Me and I'm grateful to be working as an actor and model in Portland right now. I'm kind of exhausted from how busy things are, but I'm truly grateful to be working. I've been trying for years to get to this point and I kind of feel like this is just the start.