For Panic Fest 2020, we interviewed Graham Denman for his directorial debut of Greenlight (read our review – HERE). This film has received quite the feedback from both fans and critics alike. Learn about the inspiration behind the film, the casting process, upcoming projects, and more!
PopHorror – Greenlight was your first feature film. Can you talk about that experience?
Graham Denman – Making Greenlight was definitely a lot of different experiences. There were good and bad days but mostly good. Just being able to wake up every day and know that I was working with so many of my friends to make a movie we all believed in and wanted to see come to fruition was a beautiful thing. When you're making a movie, especially at our budget level, you're racing against the clock to make your days and get what you need, so that became stressful at times but we all helped each other get through it by reminding ourselves, "We are making a movie! This is the dream!" All in all, Greenlight was a life-changing experience for me personally that helped me grow as a person in wonderful ways I never knew I could. I think we all came out of that movie a little burnt out but we all learned a lot and shared a very special filmmaking journey together.
PopHorror – That's wonderful to hear. Where'd you get the idea for this film?
Graham Denman – As someone who was desperate to make a film, I was sitting with a friend one day and said out loud, "How far would you go to make your first feature film?" And suddenly it clicked and the ideas began pouring out. Greenlight was the title formed on that day as well and here we are.
PopHorror – What got you through the tough days? I can imagine there must have been a few!
Graham Denman – Like I said, reminding each other why we were here and how hard we had all worked to get this movie going was very helpful. However, during the time of filming I was still a smoker so smoking like a chimney between takes and talking with our producer Rudy Scalese, DP Powell Robinson and writer Patrick R. Young was therapeutic for me when the days were tough.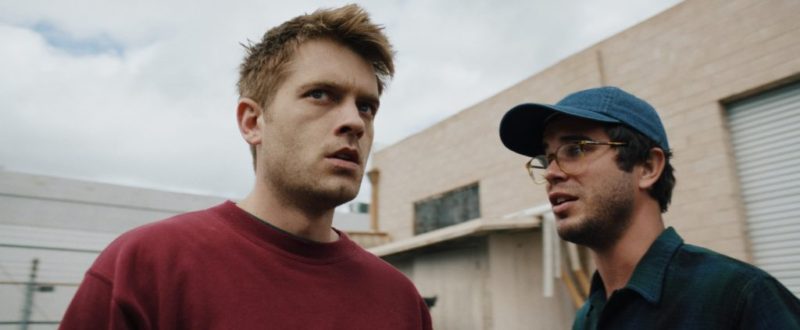 PopHorror – How'd the casting process come about?
Graham Denman – Rudy brought on a wonderful woman named Natalie Jarman who was incredibly sweet. She's a casting director who helped set up space for us to hold auditions as well as reach out to multiple managers and agencies to help fill our casting calls so we could find the right people to come play with us. I brought a lot of actors to the table myself, like Chris Browning, Caroline Williams and some others I knew personally, but Natalie went out of her way to help us in so many ways during casting. We landed the incredible Craig Stark, from Django Unchained, through Natalie as well as Victor Turpin, who plays Damien in the film. After Victor read for the part, I thought about it for a few moments, then I chased him down in the parking lot and said, "You're it. I want you in Greenlight. What do you say?" We hugged and boom, Damien was cast. It's fun to see so many people come in and play a role you're looking to cast but sometimes you just know right there on the spot.
PopHorror – It's a truly great cast. From what I understand, Greenlight didn't have a distributor while you were making it. Did that add any extra pressure on you?
Graham Denman – Not at all. If anything it was more exciting because there was no pressure of any kind other than to make the movie I wanted to make. It was very freeing at the time. I'm grateful we have distribution now though, that's for sure!
PopHorror – That's true! You've had great positive feedback for this film. How does that feel?
Graham Denman – It feels great. A little surreal. When all you dream about is making movies someday and you finally do it and then suddenly you see strangers writing about something you made but with positivity and awareness of what you and your team were trying to get at, it's really cool to see that translate. I'm really honored that people seem to be enjoying the film and understanding we were going for something a little different than your average horror/thriller. Even talking with you today about Greenlight means a lot to me, so thanks for taking such an interest in our film. Warms my heart.
PopHorror – You deserve the praise and good feels! What's next for you? Any upcoming projects?
Graham Denman – I've got a few irons in the fire. I'm currently working on a few things I'm excited about. I have a good idea of what I want to do but we will see where the cards fall when we get there. Not everything I'm working on is in the horror genre. I want to make all kinds of films like dramas, noir, science fiction I even have a super dark comedy I hope to make someday in the vein of Very Bad Things, but I can confirm that my next film at this point will be an all-out horror film. I want to make something really intense that is genuinely scary and gets under your skin.
*** You can pre-order Greenlight by clicking here – https://itunes.apple.com/us/movie/greenlight/id1491439552?ls=1