Obsession. Delusion. Infatuation. I see it every day on social media. A fan whose love for a celebrity has gone too far. Their "support" goes beyond sharing their posts, buying their movies, and donating to their latest IndieGoGo. They start to feel like that they're special. A one of a kind connection between themselves and the specific person they're idolizing. It turns ugly. Maddening. In Paige Troxell's recent horror short debut, Ad.Her.Ent, she uncomfortably portrays how this innocent obsession can quickly turn into a deadly nightmare.
This short was directed by Paige Troxell as well as co-written by herself and Christine Galbraith. This painfully accurate portrayal of fandom goe too far stars Galbraith, Cory Henry along with Diandra Lazor, Amy Alessi, Isaac Ignacio Bennett, Anthony Brownlee, Taylor Burskey, and Kim Gunzinger.
Synopsis for Ad.Her.Ent
Carrie Galloway is an up and coming new actress on the verge of her big break. Owen, a lonely I.T. guy who works from home all day has no friends. Until one day, a chance encounter in an elevator, Owen realizes that his favorite actress lives in his building. What happens after is a tale of obsession, misunderstandings, and real terror. Her biggest role, was his best friend.
This short is unnerving. It's like watching a nightmare unfold right in front of your eyes, but you can't do anything to stop it. You're left with this icky feeling in the bottom of your stomach that feels like regret and disgust. I sometimes feel like this on a daily basis because of the things I see on social media. I'm very involved with the indie horror community, so I see similar situations like this all the time. Fans getting eerily too close to their idols. But people will make excuses for them even when all the warning signs are there. "Oh, they're innocent." "They're just supporting me." "They come to every con just to see me." It makes me so uncomfortable and all I can do is hope that "they'll never take it too far".
In Ad.Her.Ent, Christine Galbraith's character, Carrie, is just in the wrong place… at the wrong time. Completely unavoidable. It didn't take but a few kind words and gestures for a deranged fan manipulated them into something more. Cory Henry's unhinged performance is brilliantly disturbing. He made my whole body tense up and I could smell his desperation and self-righteousness.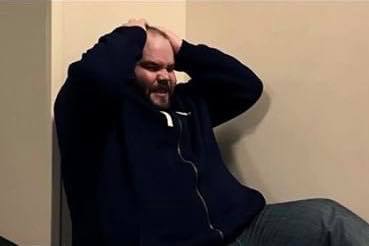 Final Thoughts
Ad.Her.Ent is one of my favorite horror shorts in 2019. Mostly because I think this story is important. It's honest. It's real. It's horrifying. It's a real-life horror. It's a cautionary tale of how easily things like this can happen. Paige continues to impress me with her body of work and I look forward to her next project!