Whether you loved Ari Aster's Hereditary or hated it, there's no denying the fact that it was definitely unique and got people talking. I have a feeling that his new film Midsommar is going to have that same result. I'm looking forward to seeing it. Last week they dropped the official poster for the film and today we got to experience the official trailer. And after seeing it… we can safely say it's one of most highly anticipated films of the year!
From A24 comes a new horror story directed and written by Ari Aster as well as produced by Lars Knudsen and Patrik Anderson. The cast includes Florence Pugh, Jack Reynor, William Jackson Harper, Vilhelm Blomgren, Archie Madekwe, Ellora Torchia, and Will Poulter.
Synopsis for Midsommar
Dani (Florence Pugh) and Christian (Jack Reynor) are a young American couple with a relationship on the brink of falling apart. But after a family tragedy keeps them together, a grieving Dani invites herself to join Christian and his friends on a trip to a once-in-a-lifetime midsummer festival in a remote Swedish village.

What begins as a carefree summer holiday in a land of eternal sunlight takes a sinister turn when the insular villagers invite their guests to partake in festivities that render the pastoral paradise increasingly unnerving and viscerally disturbing. From the visionary mind of Ari Aster comes a dread-soaked cinematic fairytale where a world of darkness unfolds in broad daylight.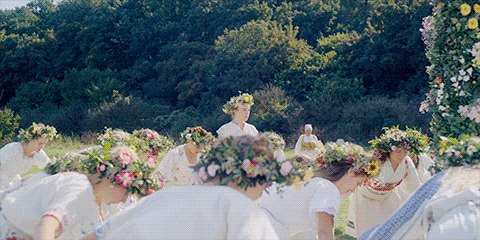 Midsommar hits theaters on July 3, 2019. Do you plan on checking it out? Are you a fan of Ari Aster's work? Let us know and stay tuned for more horror news and updates! We absolutely love this trailer!