If you like creepy dolls, you'll be delighted to know that Annabelle is back and creepier than ever. Check out the official teaser trailer for Annabelle 2 that will leave you wanting more!
This new Annabelle story actually looks promising for 2 main reasons. 1) This trailer gives me the goosebumps and audiences wanting to know more about the story and characters… way more than we got in just a minute and five seconds. However, within that brief amount of time watching that teaser I was far more terrified of that doll than I ever was in the entire first film. 2) This one is directed by David F. Sandberg who is known for this summer's horror movie hit, Lights Out, which I absolutely loved. It had a great story, awesome cast, and it made me jump in my seat a few different times. I truly hope he can do the same for Annabelle 2.
After the tragic death of their daughter, several years later a dollmaker and his wife welcome a nun and some girls from an orphanage into their home. Soon after, one of the dollmakers creations starts to possess one of them.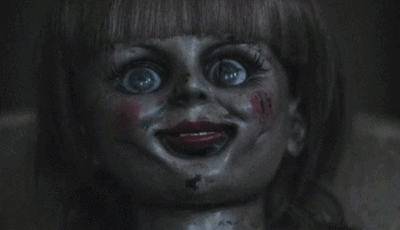 Hmm… this already sounds like a better plotline than the original if you ask me. I'm not trying to hate on Annabelle, but I really just didn't care for it at all. I love creepy doll movies, but the original bored me to death. Even more so after other possession stories such as The Conjuring or Dead Silence, which both excelled in frightening people. Maybe Annabelle WILL BRING IT this time around! It will be officially released in theaters on May 19th, 2017 and until then we can look forward to the upcoming trailers! What are your thoughts? Let us know!