Earlier this year, Midnight Releasing brought us a possibly new cult classic, Capture Kill Release. Today, Midnight Releasing has announced the debut of its new musical horror comedy, Teenage Ghost Punk! Check out the trailer below! 
(Synopsis provided by IMDb.com):
"Life changes for a teenager, Amanda, when her family moves into an old Victorian home outside of Chicago. While her newly-divorced mom struggles with a new job and her eccentric little brother seems to fit in effortlessly, Amanda tries to find her way in her new daunting high school. Meanwhile, weird things happen in the new house: knocking sounds, strange guitar riffs in the rain, and unexplained messes. A quirky medium and a bumbling paranormal investigation team search for answers but are scared away by an unseen force."

Amanda soon discovers that her house is haunted by Brian, a teenage punk rock ghost who has been jamming on her roof during rainstorms for thirty years. They forge an unlikely friendship and feelings deepen, but tension arises when Amanda asks him to the homecoming dance. When uninvited guests arrive at Amanda's Halloween party, paranormal investigators clash with Chicago's most badass spirit, and the neighborhood's past collides with its present, how will Amanda solve her future?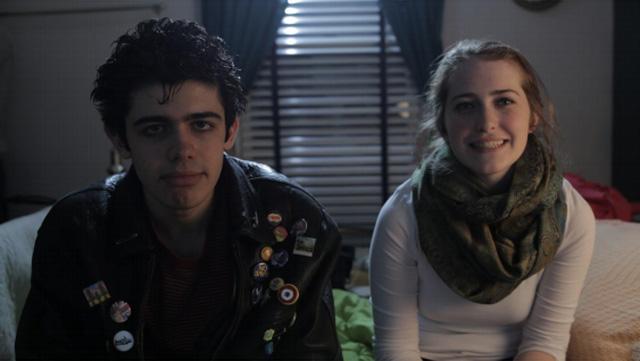 Teenage Ghost Punk was written and directed by Mike Cramer. Prior to Teenage Ghost Punk, Cramer directed a film called Dear Mr. Fidrych in 2009. This new film by Midnight Releasing has screened several festivals including the Chicago International Movies And Music Festival, the Spooky International Horror Film Festival, and the Geneva Film Festival, where Cramer took home the award for Emerging Narrative Feature Filmmaker.
Teenage Ghost Punk stars Adria Dawn (TV's Popular) along with an up-and-coming cast: Grace Madigan (Amanda), Jack Cramer (Brian), and Noah Kitsos. This film is now available to rent or own on iTunes, Amazon Instant, Google Play, Vudu, XBox, FlixFling, DirecTV, Comcast, FiOS, AT&T, Digital HD, and Cable VOD.
Mike Cramer mixing rock and roll with a family horror comedy could possibly be this generation's Casper! Are you ready for the new ghost in town? Be sure to check it out and let us know what you think!