Amy Louis is a mother from Australia who recently gave her 1-year-old son, Phoenix, a zombie-themed birthday party, complete with zombie makeup and a brain cake! Of course, everyone on the internet is offended nowadays, so she was met with harsh criticism from parents who believe a 1-year-old will be traumatized by a brain cake. Those criticisms are not why I want to talk about this subject. There's actually a beautiful and heartbreaking backstory to this zombie party that I wanted to share. 
One harsh woman even told Amy that she wished that the mother had lost her son so she would have known how this feels. What these people didn't know is that Amy did lose Phoenix. When he was born, he didn't have a heartbeat for 13 minutes.
When speaking to Daily Mail, Amy told her tragic story:
"From the time the doctors told me my placenta had detached and there was no heartbeat, to the time they cut him out, was such a whirlwind of emotion. I remember feeling terrified but still hopeful. Even though they had said 'get her down to theatre right now, the baby has no heartbeat,' I thought, 'This kind of stuff happens all the time.' But, when they took him out, and there was no cry, my heart just sank. It wasn't a sad feeling; it was anger."
Amy continued:
"The doctor squeezed my hand to try and show his emotion, but it was a mess. It was awful. I just kept seeing this tiny white coffin flashing through my mind as I started to process what had happened."
But Phoenix was miraculously brought back to life on October 31st, Halloween!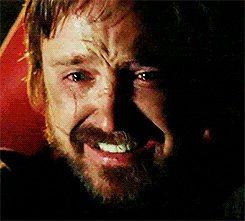 Amy continued:
"It was the longest and most awful 13 minutes of my life. When I held him for the first time, the world disappeared. What better than a zombie-themed cake smash for the tiny baby boy who was pronounced dead and then miraculously came back to life on Halloween." 
I can't even begin to imagine what that poor family went through. It makes me tear up just thinking about it. As horror fans, we're used to being met with criticism each day, especially with horror-themed children's birthday parties. However, there was so much more to this party, and it breaks my heart that this mother would be chastised for celebrating her little miracle in such an epic way. I wanted to share this good news because it's a beautiful story, and Amy has every right to celebrate it her way! I wish everything in the world for Amy and little Phoenix! Happy birthday, Phoenix!