According to Entertainment Weekly, a fourth film in the Hatchet franchise has been made. Adam Green has secretly written and directed the new film which once again stars Kane Hodder (Friday the 13th) as the Louisiana swamp-dwelling, supernatural killer in the title role and the film's namesake. The film, titled Victor Crowley, is being described as a reboot but will take place after the third film. Some extra lucky people celebrating the film's 10 year anniversary tonight at Hollywood's ArcLight Cinema got the chance to watch it!
It is set ten years after the massacre featured in the series' first three movies (2006's Hatchet, 2010's Hatchet II, and 2013's Hatchet III).  According to EW:
In the film, we discover that Shen's lone survivor Andrew Yong has spent over a decade claiming that local legend Victor Crowley was responsible for the deaths of the forty-nine people killed in the original trilogy of films. Yong's allegations have been met with widespread disbelief, but when a twist of fate puts him back at the scene of the tragedy, Crowley is mistakenly resurrected and Yong must face the bloodthirsty ghost from his past.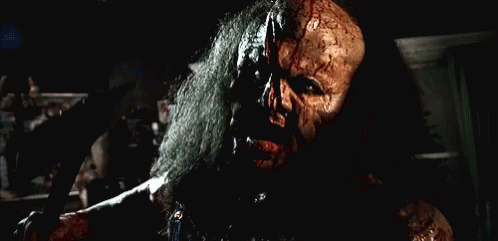 Victor Crowley stars Laura Ortiz (2006's The Hills Have Eyes), franchise veteran Parry Shen (Better Luck Tomorrow), Dave Sheridan (Scary Movie), and Brian Quinn (truTV's Impractical Jokers). Victor Crowley is written and directed by Green who wrote all three previous Hatchet films and directed the first two movies. This is the best news we've heard in a long time! Do you agree?! Let us know.