Making a movie in the 21st century is easier than ever before. Just about everyone out there has a smart phone that can record video – combining that with the plethora of how-to videos and step-by-step instructionals available online makes much of the previously secret techniques to filmmaking a thing of the past. However, even with the tightest, most thrilling script, a perfect shooting location and a five bar WiFi connection, without money to pay for the actors, FX artists, editing equipment and composer, the movie is just not going to get made. What's a filmmaker to do?
The crew behind the UK horror short Run knows what it's like to do things on a bare bones budget. This time, with a little help from their friends and fans, they're hoping to create For Her…, a horror short about Jonathan and Elizabeth, two young lovers whose relationship is tested when Elizabeth becomes ill.
Jonathan and Elizabeth are deeply in love, but their relationship is tested when Elizabeth becomes afflicted by a devastating illness. Follow Jonathan's emotional journey as he struggles to deal with inevitable tragedy and discover what lengths he's willing to go For Her…
From director Daniel Mark Young:
"Making Run was a massive eye opener in many respects. It forced our creativity because the budget was extremely low. We didn't have the money or time to shoot things the way we would have ideally liked. As a result, we couldn't pay anyone and had to work until very late/early to get everything done. With that in mind, we wanted this project to be different. We wanted to use a whole host of gear we weren't able to use last time and more importantly, we wanted to actually pay everyone for their hard work. We feel this is going to get us the best out of everyone and show that we totally appreciate and care about the production. We have worked out our budget to the best of our knowledge."
The director/producer is currently running an Indiegogo campaign to try and raise the £2800 he needs to finish his newest creation.
Says Young:
"The £2800 if raised will pay for the following: camera rental £350 (including insurance), camera gimbal/tripod/accessory rental £300, lighting rental £325, fees (actors/casting) £600, locations £300 (estimated), transport £100, accommodation £125, wardrobe £150, catering £100, make up £150, and post production budget (VFX/music/audio mix) £300. We have tried to source equipment at the lowest possible price to provide the absolute best value for your money possible.
"Because we want For Her… to have a very polished, cinematic look and feel, we always push ourselves to make the most professional film we can. This time, we are planning to shoot on the Blackmagic URSA Mini 4.6K. This camera gives amazing cinematic quality images at a very low cost."
Check out some of the talent already on board:

Newcomer Kattreya Scheurer-Smith will play the role of Elizabeth, the wife in this star crossed couple.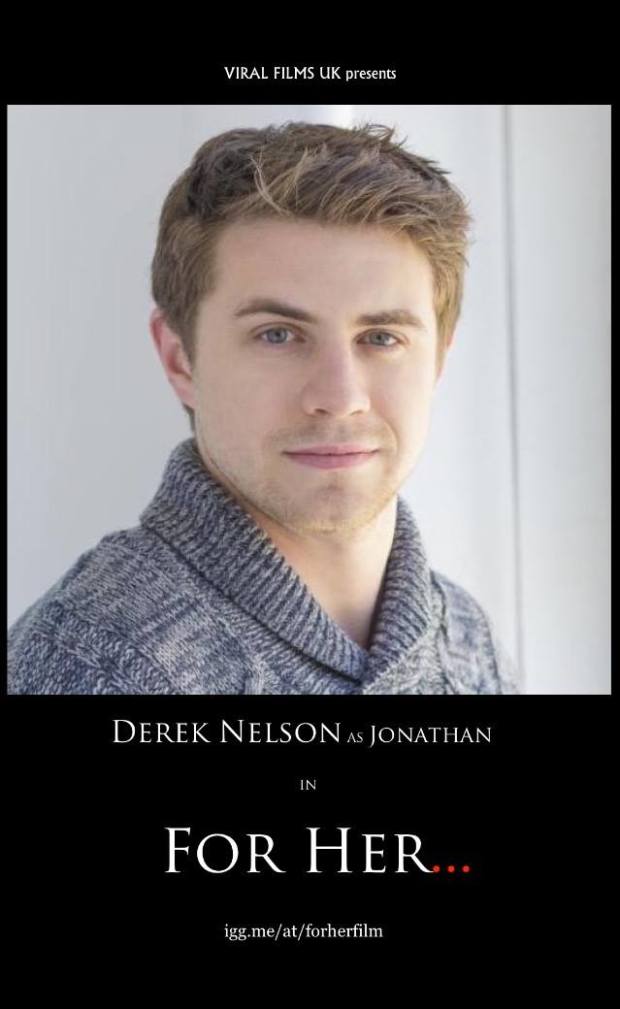 Derek Nelson (Cabin 28 2017) has been cast to play Jonathan, the desperate husband.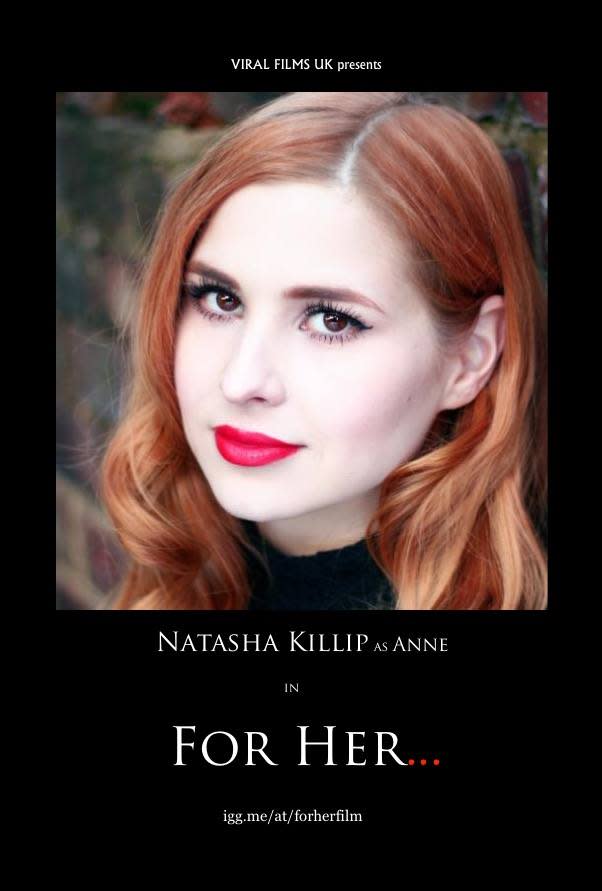 Just announced on February 10th – Natasha Killip (Chronology 2015) will play the role of Anne!
As for the crew, they've got director/producer/editor Daniel Mark Young, writer/producer James Craigie, cinematographer/producer Michelle Barry, makeup and FX artist Melanie Lindsey, composer Adam Woodhams, actress Mari Beaseley and casting director/producer Martine Beaseley, all of whom worked together on Run. This time around, the crew has added camera operator Darrell Pringle. Singer/songwriter Kina Grannis has graciously given Young and Craigie permission to use two of her songs in the film: "Little Worrior" and "Throw It Away" from her 2014 album Elements.
What You'll Get For Your Donation
For this we are offering many perks that we didn't in our last campaign, such as BluRays/DVDs, t-shirts, posters, signed goods, and more. Check out the campaign page for more donation perks.
Other Ways to Help
If you want to help out but can't contribute financially, Young and his crew would really appreciate if you could spread the word about For Her… and this campaign via social media, Facebook, Twitter etc., sharing the link to this campaign or rent their last film, Run, which is available in digital copy format from their Sellfy store for just £1.99 – all proceeds go towards future projects like For Her… Purchase Run here for £1.99.
Thanks so much for taking the time to check out this campaign and spreading the word about this creepy UK horror short!