We all know her, and we all love her! Today we celebrate the 40th birthday of the beautiful, talented, and spooky Christina Ricci!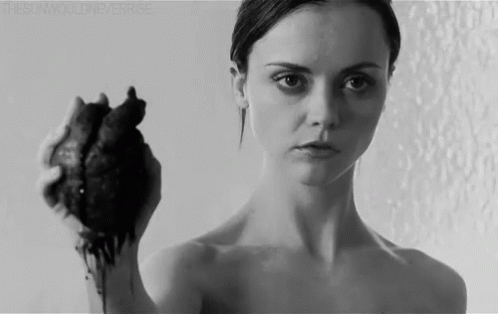 Christina Ricci was born on February 12th, 1980 in the beautiful Santa Monica, California. Starting her career as an actress just ten years after she was born, 1990 introduced Christina to the world with a little TV series called H.E.L.P., where she played a young girl by the name of Olivia.
Although just being ten years old, Hollywood was quick to accept her into its arms just one short year later in 1991 where she starred as Wednesday Addams in the unforgettable comedy-horror classic, The Addams Family, starring herself, the late Raul Julia, Anjelica Huston, and the always amazing Christopher Lloyd.
In 1993, she made an appearance at just 13 years old on Saturday Night Live and reprised her role as Wednesday Addams in the sequel to the 1991 hit, The Addams Family Values. It didn't take long for people to notice her, and it certainly was clear that she was meant for the big screen in horror, whatever form it may be! In 1995, she starred in yet another horror-comedy classic, that I myself am quite fond of. 1995's Casper, starring herself, Malachi Pearson as Casper, Bill Pullman, Cathy Moriarty, Eric Idle, Ben Stein, Don Novello, and even a nice quick appearance by Fred Rogers, hit the big screen and took Ricci's career into another step closer to superstardom.
Casper won a few awards, including an award for Christina of "Best Performance by a Younger Actor", it won "Top Box Office Film", it was nominated for "Favorite Movie" by the Kids Choice Awards, 1996, but it was also nominated for a Stinker Award for "Worst Picture."
Let's skip ahead a few years, and get down to the film most everybody knows her for, aside from her 1991 killer–when in 1999 she starred alongside the incredible Johnny Depp and was directed by the famous Tim Burton in Sleepy Hollow. If Christina Ricci wasn't on the map for horror films before, this film would certainly throw her hat in the ring. Sleepy Hollow won critical acclaim, and 21 years later, it is still considered one of the best horror films ever made. Christina starred as Katrina Van Tassel in this spooky tale about the Headless Horseman, played by Christopher Walken, and it fueled the fire for her career for the next 21 years.
Since Sleepy Hollow, Christina Ricci has performed in numerous productions, claiming wild success, and managing to stay the good bad girl of Hollywood, and claiming one of the top 5 spots in my personal Horror Hall of Fame. She continues to prove, without fail, that a woman belongs in Hollywood, and continues to beat the stereotype with standardized roles "built for women." Christina Ricci is just an overall badass!
To that end, I want to wish Christina Ricci a wonderful birthday, and I'm sure we'll continue to see a great many things from you! We love you!