It is almost October! Leaves are turning color and cooler temps abound. General Mills Monster cereals are back on shelves and Michael Myers is almost home. It is definitely Halloween season! Along with the season is some awesome news from one of our favorite online retailers, Fright-Rags! They have some kick ass collections available right now to feed our need for all things horror and Halloween. There's a little something for everyone, including a brand new line of decorations, Frightville Novelties. Let's take a look!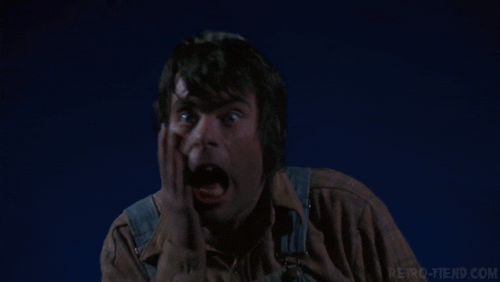 It may not be October yet, but the Halloween season is already upon us. Set the spooky scene with Fright Rags' new apparel from Trick 'r Treat, General Mills Monsters, Stephen King, and Haunters: The Art of the Scare.




Fright-Rags has launched Frightville Novelties, a new line of die-cut decorations. The inaugural line is dedicated to Trick 'r Treat, featuring one large (14×16) and six small (8.5×10) double-sided, vintage-style Halloween decorations. A new Trick 'r Treat shirt, plus a reprint of a classic shirt and socks, are also up for grabs.
General Mills' monster cereals have hit the shelves, and Fright-Rags has a General Mills Monsters collection of its own. There's a retro newspaper ad shirt, a Breakfast Club parody shirt, and enamel pins of all five mascots: Count Chocula, Boo Berry, Franken Berry, Fruit Brute, and Yummy Mummy.
Fright-Rags celebrates Stephen King's birthday – the esteemed author turned 71 this month – with apparel featuring five of his classic book covers. The company worked directly with the original artists to release the artwork for Pet Sematary, IT, The Dark Half, Night Shift, and Skeleton Crew on T-shirts. Pet Sematary and IT are also available on zip-up hoodies.
With haunted houses beginning to open their doors, Fright-Rags has put the official artwork for the haunted house documentary Haunters: The Art of the Scare on T-shirts. Enamel pins featuring the film's logo are also available.
October will be the Month of Myers at Fright-Rags, with merchandise from Halloween (1978), Halloween (2018), Halloween II, Halloween III: Season of the Witch, Halloween 4: The Return of Michael Myers, Halloween 5: The Revenge of Michael Myers, and Halloween: The Curse of Michael Myers.
Gaaahhh!!! I am not even sure where to start. I want it ALL! Trick 'r Treat is one of my favorite horror movies ever. I need the lollipop socks! Plus those General Mills Monster pins! NEED! That is also the copy of Stephen King's Skeleton Crew I have. "The Monkey" is a deliciously evil little story. Another iconic cover is the Night Shift cover. The Haunters: The Art of the Scare shirt is breathtaking! Of course, this is the year of the return of Michael Myers, so I'm definitely excited for those collections. How about you guys? What are you getting? Let us know below! Stay tuned to PopHorror for all your news, reviews, interviews and much more!