There are 16—yes, 16!—films available through DiabolikDVD in the next few weeks. From Blu-rays to 4k UHD, they have quite a list going for pre-order.
Living Dead at Manchester Morgue/Let Sleeping Corpses Lie (Synapse Blu-Ray All Region) Preorder
With its revolutionary mix of shocking-for-its-time violence and sociopolitical themes, George A. Romero's 1968 classic Night of the Living Dead quickly proved to be enormously influential with filmmakers around the world, and few were able to match its power like Jorge Grau's The Living Dead at Manchester Morgue.  Mixing a strong environmental statement with unforgettably terrifying set pieces, Grau's film stands on its own as a horror classic, and now it's been restored to its horrifying glory by Synapse Films.
Happy Death Day (Scream Factory 4k UHD / Blu-Ray) Preorder
Blumhouse Productions brings you this original and inventive thriller in which a blissfully self-centered co-ed (Jessica Rothe: Utopia) is doomed to relive the day of her murder … unless she can identify her masked assailant and hopefully stop the madness. If she can't, she will be stuck in an insane loop, reliving the ghoulish nightmare that has become her death day.
Happy Death Day 2U (Scream Factory 4k UHD / Blu-Ray) Preorder
It's déjà vu all over again for Tree Gelbman, the snarky sorority sister who solved her own murder by repeatedly reliving it. But now the masked campus killer has mysteriously rematerialized to terrorize new targets, and Tree must cycle through another time loop of terrifying chills, clever twists, and pulse-pounding suspense in this inventive follow-up to Blumhouse's hit thriller Happy Death Day.
Night Creatures (Scream Factory) (Blu-Ray) Preorder
In the 18th century, a Navy captain (Patrick Allen: When Dinosaurs Ruled The Earth) and his sailors investigate the rampaging "marsh phantoms" terrorizing a coastal town, but their search is hindered by Reverend Dr. Blyss (horror legend Peter Cushing) and a horrifying curse.
Cursed (Scream Factory) (Blu-Ray) Preorder
Christina Ricci (Yellowjackets), Jesse Eisenberg (Zombieland), Joshua Jackson (Dr. Death), Judy Greer (Halloween Kills), and Milo Ventimiglia (Kiss Of The Damned) find themselves caught up in an unimaginable horror!
The Forbidden Door (Severin) (Blu-Ray) Preorder
With his third disturbing feature, Joko Anwar – Indonesian writer/director of Impetigore and the remake of Satan's Slave – became one of the most daring new genre filmmakers in the world.
House on the Edge of the Park (Severin 3 4k Disc LE) (Blu-Ray) Preorder
3-Disc limited editions includes remastered uncut 4k scan, new documentary and soundtrack CD.
Twisting the Knife: Four Films by Claude Chabrol (Limited Edition Arrow US) (Blu-Ray) Preorder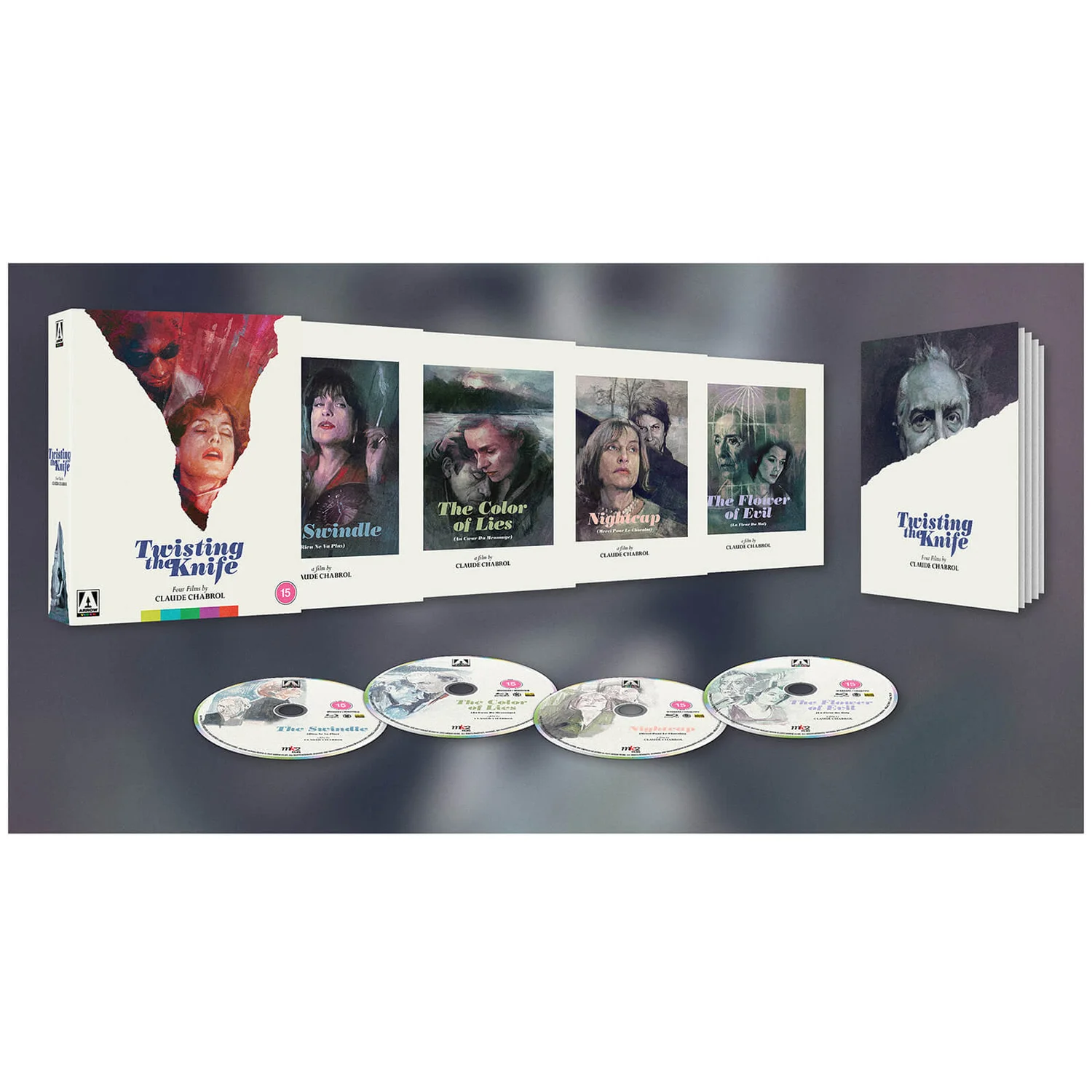 Though influenced by Fritz Lang, Alfred Hitchcock and Jean Renoir, Chabrol's voice was entirely and assuredly his own, influencing in turn filmmakers like Bong Joon-ho, James Gray and Dominik Moll. His amused, unblinkered view of life and refusal to judge his characters makes his films timelessly relevant and accessible to all. Arrow Video is proud to present this second collection of films by Claude Chabrol with a wealth of new and archival extras. Includes Swindle, The Color of Lies, Nightcap, The Flower of Evil
Henry: Portrait of a Serial Killer (LE Arrow UK 4k UHD See Note) Preorder
and
Henry: Portrait of a Serial Killer (Arrow UK) (Blu-Ray Region B) Preorder
Widely heralded as one of the greatest serial killer movies of all time, Henry: Portrait of a Serial Killer presents a bleak and unflinching dive into the mind of a mass murderer.
The 8 Diagram Pole Fighter (Arrow US) (Blu-Ray) Preorder
Made during the legendary Shaw Brothers studio's twilight years as a filmmaking powerhouse, The 8 Diagram Pole Fighter is often regarded as director Lau's masterpiece, as elegiac and suffused with anguish as it is thrillingly violent (not least in its bone-crunching, teeth-smashing climax).
12 Monkeys (Arrow US) (4k UHD) Preorder
Following the commercial and critical success of The Fisher King, Terry Gilliam's next feature would turn to science fiction and a screenplay by Janet and David Peoples (Blade Runner, Unforgiven) inspired by Chris Marker's classic short film, La Jetée.
Rogue Cops and Racketeers: Two Crime Thrillers from Enzo G. Castellari (Arrow US) (Blu-Ray) Preorder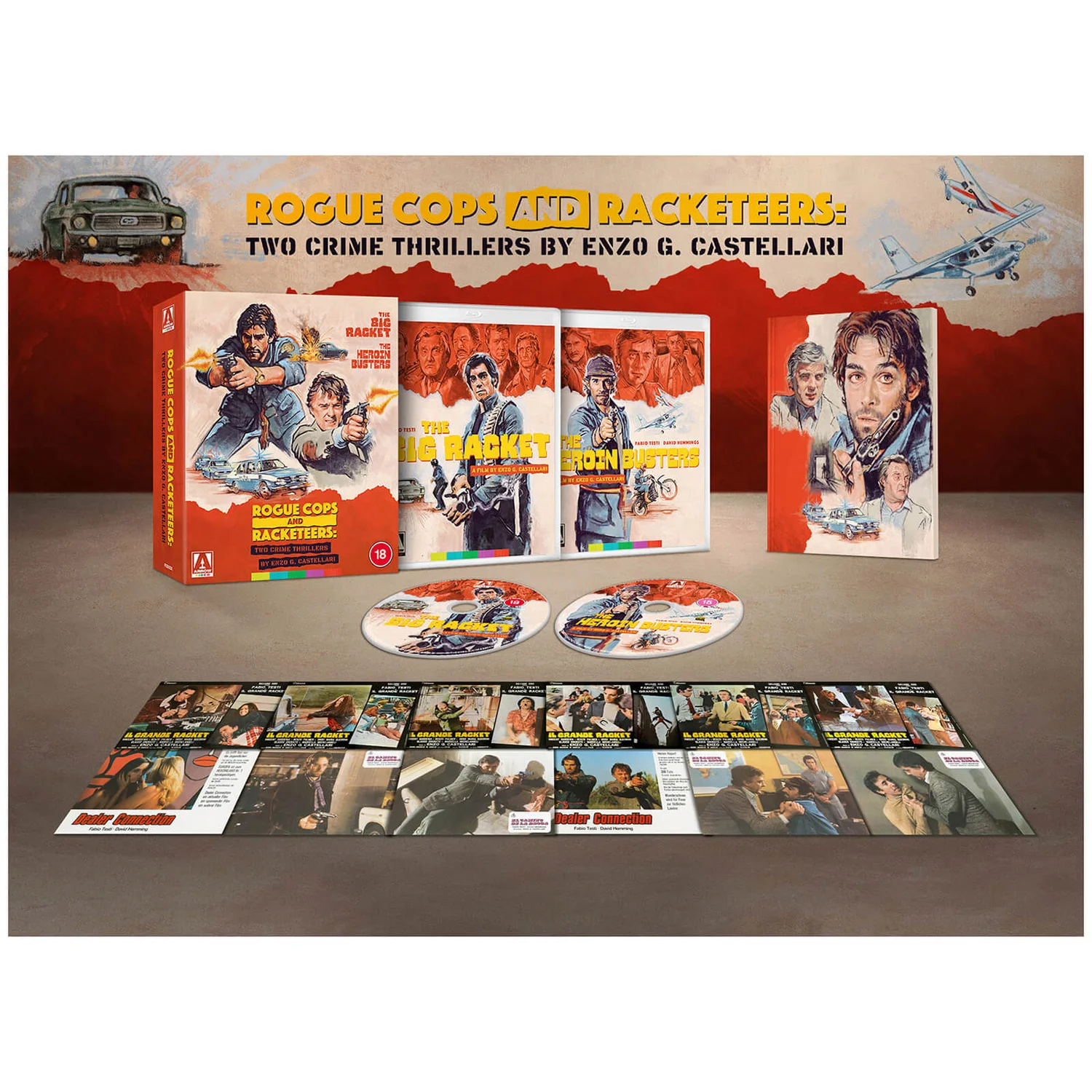 Over a long and wide-ranging career, director Enzo G. Castellari (Keoma, The Inglorious Bastards) helmed some of the most infamous of all the poliziotteschi – the gritty, action-packed crime films that proliferated in Italy throughout the 70s. Buckle up for a heart-stopping thrill ride through the seedy underbelly of Italian society in two of his most celebrated thrillers!
Three Monster Tales of Sci-Fi Terror (LE Eureka UK) (Blu-Ray Region B) Preorder
Man-Made Monster, The Monolith Monsters, and Monster On The Campus, a trio of chilling sci-fi tales from the vaults of Universal Pictures, starring a number of genre legends including Lionel Atwill (Son of Frankenstein), Lon Chaney, Jr. (The Wolf Man), Grant Williams (The Incredible Shrinking Man).
Knockabout (LE Eureka UK) (Blu-Ray Region B) Preorder
Featuring one of the greatest action finales in the history of Hong Kong cinema, Knockabout is yet another classic of martial arts filmmaking from the legendary Sammo Hung, and Eureka Classics is proud to present the film in its UK debut on Blu-ray from a brand new 2K restoration.
Dreadnaught (LE Eureka UK) (Blu-Ray Region B) Preorder
Directed by legendary action choreographer Yuen Woo-ping (The Matrix; Crouching Tiger, Hidden Dragon), Dreadnaughtexpertly blends majestic action sequences with superb physical comedy, courtesy of stars Yuen Biao, Bryan Leung Kar-yan, and Yuen Shun-yee.
One for the Road (US Indicator) (Blu-Ray All Region) Preorder
A darkly comic satire on male fragility, Chris Cooke's One for the Road is one of the great, unsung British films of the twenty-first century.
Stanley Long's Adventures Box Set (US Indicator) (Blu-Ray All Region) Preorder

Once dubbed the 'King of Sexploitation' by the tabloid press, Stanley Long was the godfather of the British sex film.
The Wonderful World of Brothers Grimm (Warner Archive) (Blu-Ray) Preorder
The fictionalized lives of the story-telling Grimm brothers are brought to life in this all-star fantasy film. In the early nineteenth century, the brothers Wilhelm and Jacob Grimm are commissioned to write a family history for a local Duke. Reenactments of three of their stories including "The Dancing Princess", "The Cobbler and the Elves" and "The Singing Bone"
Dream a Little Dream (Vestron) (Blu-Ray) Preorder
Relive the teen star magic of the two Coreys — Corey Feldman and Corey Haim — as they lead a stellar cast including Meredith Salenger, Victoria Jackson, and veteran actors Harry Dean Stanton, Piper Laurie, and Jason Robards, in this quirky comedy.
Find more info on all of these films, including prices, release extras and shipping dates, stop by DiabolikDVD.